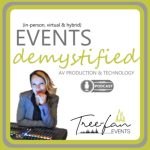 One of my biggest pet peeves in personal and business relationships is poor communication. And so I started asking myself, how does one get better at communicating? Is it nature or nurtured skill set? To answer the question I invited a MASTER COMMUNICATOR, Brenden Kumarasamy, founder of MasterTalk, where he coaches ambitious executives & entrepreneurs to become the top 1% communicators in their industry. He also has a popular YouTube channel called MasterTalk, with the goal of providing free access to communication tools for everyone in the world. Fun fact about Brenden, he can karaoke in 8 languages, while speaking 3 fluently: English, French, and Tamil.
—————-
Connect with Brenden on LinkedIn, or on YouTube
Check out his tips: 5 advanced public speaking tips
—————-
"Events: demystified" Podcast is brought to you by Tree-Fan Events and your Podcast Host is Anca Trifan.
Let's chat about your event, and schedule a time that works for you via the 20 min free consultation link.
Original Podcast Music written and produced by Fable Score Music.
—————-
For event and podcast updates, tips, and tricks of the trade, follow us on these social channels:
Instagram: https://www.instagram.com/eventsdemystifiedpodcast
Become a Patron on Patreon: https://www.patreon.com/eventsdemystified
—————-
Tree-Fan Events offers Hybrid Event Production Services: https://treefanevents.com/hybrid-event-services/
—————-
If you like our podcast, please show us some love by subscribing to this podcast on your favorite listening platform and following us on YouTube and Instagram. By leaving a great review and hitting the 5 stars, you make this Podcast visible to other listeners with the same interests as you. Until next time!
—
Send in a voice message: https://anchor.fm/eventsdemystified/message