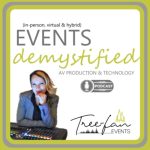 Tune into this unique brand new episode to learn from our fire-cracker featured guest, Angel Marie Monachelli, the creator of the Shine On Movement, a ​six-time best-selling author ​known to many as the energizer bunny at virtual, hybrid and in-person events,
how to raise the energy of your events, especially in the digital and hybrid realm, and
how to eliminate the zoomed out zombies by connecting your audience to energy, confidence and joy.
Learn There Three Secrets You NEED To Know About Raising Your Energy: http://freegiftfromangelmarie.com/
—————-
Connect with Angel Marie on LinkedIn, or on her website.
—————-
"Events: demystified" Podcast is brought to you by Tree-Fan Events and your Podcast Host is Anca Trifan.
Let's chat about your event, and schedule a time that works for you via the 20 min free consultation link.
Original Podcast Music written and produced by Fable Score Music.
—————-
For event and podcast updates, tips, and tricks of the trade, follow us on these social channels:
Instagram: https://www.instagram.com/eventsdemystifiedpodcast
Become a Patron on Patreon: https://www.patreon.com/eventsdemystified
—————-
Tree-Fan Events offers Hybrid Event Production Services: https://treefanevents.com/hybrid-event-services/
—————-
If you like our podcast, please show us some love by subscribing to this podcast on your favorite listening platform and following us on YouTube and Instagram. By leaving a great review and hitting the 5 stars, you make this Podcast visible to other listeners with the same interests as you. Until next time!
—
Send in a voice message: https://anchor.fm/eventsdemystified/message