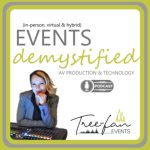 Coming up on the Events: demystified Podcast is our interview with Matthew Frank, the Director of Technology Evangelism & Product Marketing at Blackthorn.io, during which we take on to demystify:
– the common pitfalls in the event management space and how to solve them,
– how to get the most out of your hybrid event with Salesforce,
– strategies necessary to ensure sensitive data remains secure during the transition back to in-person events, and
– what event metrics event technology should capture and their impact.
—————-
Matt Frank is a Denver resident and avid music enthusiast, with one goal in mind: to empower organizations with apps that delight and, simply put, 'just work.' Connect with Matt on LinkedIn, or on his company's website.
—————-
"Events: demystified" Podcast is brought to you by Tree-Fan Events and your Podcast Host is Anca Trifan.
Let's chat about your event, and schedule a time that works for you via the 20 min free consultation link.
Original Podcast Music written and produced by Fable Score Music.
—————-
September will be the launch of our brand new season: Women Behind the Scenes in Events. Stay tuned for some fantastic featured guests!
For event and podcast updates, tips, and tricks of the trade, follow us on these social channels:
Instagram: https://www.instagram.com/eventsdemystifiedpodcast
Become a Patron on Patreon: https://www.patreon.com/eventsdemystified
—————-
Tree-Fan Events offers Hybrid Event Production Services: https://treefanevents.com/hybrid-event-services/
—————-
If you like our podcast, please show us some love by subscribing to this podcast on your favorite listening platform and following us on YouTube and Instagram. By leaving a great review and hitting the 5 stars, you make this Podcast visible to other listeners with the same interests as you. Until next time!
—
Send in a voice message: https://anchor.fm/eventsdemystified/message