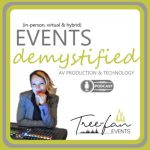 It's with great honor that I have the pleasure to invite to join me as I kick off a brand new season:
?????? ?: ????? ?????? ??? ?????? ?? ?????? ??? ????? ???????????
This season has been on my mind for many moons and it's been a long time in the making. I am super stoked to introduce and interview some badass women in the next few episodes and have them share their journey in the area of expertise they're championing, the challenges they had to overcome and the passion that drives them to stay and keep pushing forward in a male-dominated field.
Stay tuned for some spectacular humans joining me on the air in the upcoming weeks!
—————-
The kick-off follows with an ON AIR episode featuring MAGGIE HARKER – Senior Manager, Event Scheduling at Freeman Company, a live event professional with 20 years of experience as a technician, stage manager, producer, show caller, production manager, and labor manager for theater, conventions, corporate events, and touring shows. Maggie is entering her 21st year of producing and supporting live events and connecting with humans in impactful ways, which has brought a source of light to her life even in very dark times! Aside from all that, she's a mom, she's worked almost every role in live events, and she ran 13 marathons in two countries and 4 states, including an Ultra-Marathon!
—————-
"Events: demystified" Podcast is brought to you by Tree-Fan Events and your Podcast Host is Anca Trifan.
Let's chat about your event, and schedule a time that works for you via the 20 min free consultation link.
Original Podcast Music written and produced by Fable Score Music.
—————-
September will be the launch of our brand new season: Women Behind the Scenes in Events. Stay tuned for some fantastic featured guests!
For event and podcast updates, tips, and tricks of the trade, follow us on these social channels:
Instagram: https://www.instagram.com/eventsdemystifiedpodcast
Become a Patron on Patreon: https://www.patreon.com/eventsdemystified
—————-
Tree-Fan Events offers Hybrid Event Production Services: https://treefanevents.com/hybrid-event-services/
—————-
If you like our podcast, please show us some love by subscribing to this podcast on your favorite listening platform and following us on YouTube and Instagram. By leaving a great review and hitting the 5 stars, you make this Podcast visible to other listeners with the same interests as you. Until next time!
—
Send in a voice message: https://anchor.fm/eventsdemystified/message