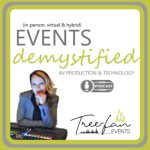 My next special featured guest on the Events: demystified Podcast part of the ?????? ?: ????? ?????? ??? ?????? ?? ?????? ??? ????? ??????????? is an #eventprofs I've been following for a while because she's THAT rad, Tahira Endean, CITP,CMP,DES,CED – head of Programme IMEX and author of the Intentional Event Design, Our Professional Opportunity (2017), a textbook for anyone 8in the events industry, passionate about planning and producing events designed well.
Tune into this episode scheduled to be released Friday, Sept 9th, and gather some knowledge from an event industry veteran, someone so committed to the industry that she's been recognized globally for a wide range of contributions, including a
-> SmartMeetings Women in Meetings Visionary (2021),
-> MeetingsToday Top 20 Trendsetter (2018), a
-> MeetingsNet Changemaker (2016),
-> the MPI BC Chapter Mentor of the Year (2018) and
-> in 2015 Tahira was inducted into the Meetings Canada Hall of Fame in the Big Idea category.
Tahira also contributed to the 9th edition of the CIC Manual which provides the framework for the CMP studies and has had the opportunity to speak around the globe for a variety of event industry conferences.
—————-
Tahira is a curious event producer, passionate about intentional event design in live, virtual and hybrid formats and how we can use technology to enhance the human experience at events and every day. A believer in life-long learning she is midway through her Masters of Science in Creativity and Change Leadership. Connect with Tahira on LinkedIn or on her website: http://intentionaleventdesign.ca
—————-
"Events: demystified" Podcast is brought to you by Tree-Fan Events and your Podcast Host is Anca Trifan, CMP, DES.
Let's chat about your event, and schedule a time that works for you via the 20 min free consultation link.
Original Podcast Music written and produced by Fable Score Music.
—————-
For event and podcast updates, tips, and tricks of the trade, follow us on these social channels:
Instagram: https://www.instagram.com/eventsdemystifiedpodcast
Become a Patron on Patreon: https://www.patreon.com/eventsdemystified
—————-
Tree-Fan Events offers Hybrid Event Production Services: https://treefanevents.com/hybrid-event-services/
—————-
If you like our podcast, please show us some love by subscribing to this podcast on your favorite listening platform and following us on YouTube and Instagram. By leaving a great review and hitting the 5 stars, you make this Podcast visible to other listeners with the same interests as you. Until next time!
—
Send in a voice message: https://anchor.fm/eventsdemystified/message