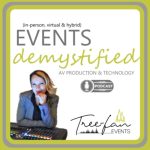 As we continue with another kick a$$ woman in AV and event productions part of the SEASON FIVE – WOMEN BEHIND THE SCENES IN EVENTS AND EVENT PRODUCTIONS, it is my great pleasure to introduce to you, Samantha Potter – Audio Engineer & Install Empress, currently at Allen & Heath USA serving as the manager of the installation and commercial audio. With a diverse background in AV/IT, production management, and system design, she also serves as a senior editor and author for ProSoundWeb, Church Sound Magazine, and Live Sound International.
Growing up a classical musician, Samantha discovered live sound by way of the studio and eventually began developing curricula for houses of worship while managing the production of funk and R&B bands in the midwest.
Her show, Church Sound Podcast, can be found on all major podcasting platforms.
UNIQUE FACTS
Started in studio work
Love the blend of computers and technology with live events/music
—————-
Just a quick review, if this is your first time listening to the podcast, this season has been on my mind for many moons and it's been a long time in the making. I am super stoked to introduce and interview many bad-a$$ women behind the scenes and in front of scenes, in events and event productions, and so in the next few episodes we will take some time to share their journey in the area of expertise they're each championing, the challenges they had to overcome and the passion that drives them to stay and keep pushing forward in a male-dominated field.
Stay tuned for some spectacular humans joining me on the air in the upcoming weeks!
—————-
"Events: demystified" Podcast is brought to you by Tree-Fan Events and your Podcast Host is Anca Trifan.
Let's chat about your event, and schedule a time that works for you via the 20 min free consultation link.
Original Podcast Music written and produced by Fable Score Music.
—————-
September will be the launch of our brand new season: Women Behind the Scenes in Events. Stay tuned for some fantastic featured guests!
For event and podcast updates, tips, and tricks of the trade, follow us on these social channels:
Instagram: https://www.instagram.com/eventsdemystifiedpodcast
Become a Patron on Patreon: https://www.patreon.com/eventsdemystified
—————-
Tree-Fan Events offers Hybrid Event Production Services: https://treefanevents.com/hybrid-event-services/
—————-
If you like our podcast, please show us some love by subscribing to this podcast on your favorite listening platform and following us on YouTube and Instagram. By leaving a great review and hitting the 5 stars, you make this Podcast visible to other listeners with the same interests as you. Until next time!
—
Send in a voice message: https://anchor.fm/eventsdemystified/message