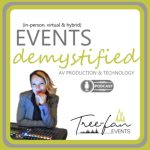 Our new season, highlighting ????? ?????? ??? ?????? ?? ?????? ??? ????? ??????????? continues with another fantastic live event production female, a very meticulous graphic operator extraordinaire, Annette Jukes, the owner of Small Prints, a graphic designer for print, digital and live events, PowerPoint and Keynote expert, content manager, and event specialist. She used to work in publishing, web, multimedia, and promotional design before becoming a freelancer 12 years ago. Her experience covers all aspects of design from brand development and advertising to shop interiors.
Tune into this unique brand new episode… to find out what are the dos and don'ts, tips, tricks & shortcuts of live event presentation graphics, simple suggestions for compiling content assets for presenters that make a big difference, and what to do when something goes wrong on stage.
—————-
You can connect with Annette on her website at www.smallprintsdesign.com,
as well as on social, on Instagram: @smallprintsdesign
And on LinkedIn: https://www.linkedin.com/in/annette-jukes-small-prints/
—————-
"Events: demystified" Podcast is brought to you by Tree-Fan Events and your Podcast Host is Anca Trifan, CMP, DES.
Let's chat about your event, and schedule a time that works for you via the 20 min free consultation link.
Original Podcast Music written and produced by Fable Score Music.
—————-
For event and podcast updates, tips, and tricks of the trade, follow us on these social channels:
Instagram: @eventsdemystifiedpodcast
Become a Patron on Patreon: https://www.patreon.com/eventsdemystified
—————-
Tree-Fan Events offers Hybrid Event Production Services: https://treefanevents.com/hybrid-event-services/
—————-
If you like our podcast, please show us some love by subscribing to this podcast on your favorite listening platform and following us on YouTube and Instagram. By leaving a great review and hitting the 5 stars, you make this Podcast visible to other listeners with the same interests as you. Until next time!
—
Send in a voice message: https://anchor.fm/eventsdemystified/message