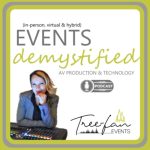 On yet another episode of the ????? ?????? ??? ?????? ?? ?????? ??? ????? ??????????? series, we're featuring another kick-a$$ fantastic guest, Erika Kurlovitz, President & Executive Producer AKIRE Productions – passionate, storyteller, designer and connector who has produced many notable events, as we demystify the world of events, women in events, and the secret to creating intentionally designed impactful event experiences.
Erika Kulovitz, has developed her career in events & marketing for over 15 years. Throughout her career, she has produced large-scale corporate events and non-profit galas, across the country. Her background covers a wide span of the in-person and virtual events industry: show director, scenic set design, creative multimedia concepts, technical, stage management, and entertainment management.
Erika brings her creativity, décor design expertise, and knowledge to the teams she works with and her clients. Erika is a CSEP (Certified Special Event Professional) and she's the recipient of many awards, including one of the Top 25 Young Event Pros to Watch (2015) by Special Events Magazine.
—————-
You can connect with Erika on her website , as well as on social @akire_productions
—————-
"Events: demystified" Podcast is brought to you by Tree-Fan Events and your Podcast Host is Anca Trifan, CMP, DES.
Let's chat about your event, and schedule a time that works for you via the 20 min free consultation link.
Original Podcast Music written and produced by Fable Score Music.
—————-
For event and podcast updates, tips, and tricks of the trade, follow us on these social channels:
Instagram: @eventsdemystifiedpodcast
Become a Patron on Patreon: https://www.patreon.com/eventsdemystified
—————-
Tree-Fan Events offers Hybrid Event Production Services: https://treefanevents.com/hybrid-event-services/
—————-
If you like our podcast, please show us some love by subscribing to this podcast on your favorite listening platform and following us on YouTube and Instagram. By leaving a great review and hitting the 5 stars, you make this Podcast visible to other listeners with the same interests as you. Until next time!
—
Send in a voice message: https://anchor.fm/eventsdemystified/message