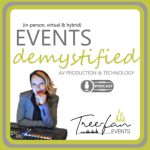 Tune into our newest episode ft Rumbi Chigumira, from Johannesburg, South Africa, and get a look behind the scenes in the world of a house of worship sound engineer and media tech who's equal parts passionate about servant leadership as well as technology, media, learning, and growing in her skills and knowledge, as well as inspiring the next generation of women to pursue careers in live sound engineering and event production.
Today's discussion topics include:
Growth comes with stepping out of your comfort zone,
Maximizing value and excellence with limited resources,
Continuous learning and openness to adapt and its connection to leadership.
Rumbi is also passionate about equipping other church tech teams in smaller growing churches which led her to start a blog, where she shares her learnings and her journey on how to use limited resources creatively, and many other topics useful to the tech and media teams, such as The Tech Team checklist
She's also the host of a Podcast called Masithethe, which means "Let's talk" – a personal podcast where she focuses on community and topics related to everyday life experiences.
—————-
You can connect with Rumbi on her website, on LinkedIn, as well as on Instagram @resoundingrue
—————-
"Events: demystified" Podcast is brought to you by Tree-Fan Events and your Podcast Host is Anca Trifan, CMP, DES.
Let's chat about your event, and schedule a time that works for you via the 20 min free consultation link.
Original Podcast Music written and produced by Fable Score Music.
—————-
For event and podcast updates, tips, and tricks of the trade, follow us on these social channels:
Instagram: @eventsdemystifiedpodcast
Become a Patron on Patreon: https://www.patreon.com/eventsdemystified
—————-
Tree-Fan Events offers Hybrid Event Production Services: https://treefanevents.com/hybrid-event-services/
—————-
If you like our podcast, please show us some love by subscribing to this podcast on your favorite listening platform and following us on YouTube and Instagram. By leaving a great review and hitting the 5 stars, you make this Podcast visible to other listeners with the same interests as you. Until next time!
—
Send in a voice message: https://anchor.fm/eventsdemystified/message