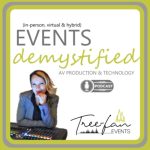 One of my favorite upcoming featured guests highlighted during the current Events: demystified Podcast's "????? ?????? ??? ?????? ?? ?????? ??? ????? ???????????" season, is Jeniffer Bello, CMP, one of my newest friends made during the several industry trade shows, conferences, and FAM trips that we kept running into each other, which made it feel like it was meant to be, a friendship match made in heaven.
Jen is my kind of girl: different, bold, and confident in her own skin.
She doesn't apologize for who she is and she doesn't dim her light just because she might not be everyone's cup of tea.
Talking to her made me feel like I am talking to my twin self and I for once, felt like I belonged. And for someone like me, feeling like belonging to something or someone, is a HUGE deal. So, without further ado, here's Jen's bio.
————-
Jeniffer Bello, CMP – President and Executive Producer; Experiential Design, Meeting Planning with a Purpose, Production Management, Destination Sourcing, and everything in between.
UNIQUE FACTS
Her multicultural background and experience allow her to design and produce experiences for diverse audiences. As a minority, she understands the value of inclusion and brings that into her meetings and events,
She went to school for Scenic and Lighting Design and worked in the technical side of theatre and media production for a good period of time, and she continues to work in Media Production (short films, documentaries, promotional videos, and reels) and every once in a while likes to work on a play,
She has a strong background in Digital Marketing and Branding and now uses this knowledge to help brands create unique experiences for her attendees that fully represent them. It also allows her to always have the guests at the center of the experience.
————-
Connect with Jen on these channels:
————–
"Events: demystified" Podcast is brought to you by Tree-Fan Events and your Podcast Host is Anca Trifan, CMP, DES.
Let's chat about your event, and schedule a time that works for you via the 20 min free consultation link.
Original Podcast Music written and produced by Fable Score Music.
—————-
For event and podcast updates, tips, and tricks of the trade, follow us on these social channels:
Instagram: @eventsdemystifiedpodcast
Our BRAND NEW YouTube channel: https://www.youtube.com/channel/UC2_hOoPp_DhYCvaH2SznPNw
—
Send in a voice message: https://anchor.fm/eventsdemystified/message