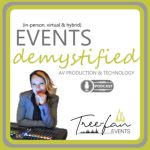 I know you've been expectantly waiting for a brand new episode to drop after the LONG break in November (because November was crazy hot with back-to-back traveling for hybrid events) – and so, WE'RE BACK!!
On this new episode of the current "????? ?????? ??? ?????? ?? ?????? ??? ????? ???????????" season,
I have invited Melissa Park to join me for a conversation centered around:
Event budgeting and how to adapt in a post-covid & pre-recession landscape,
Tips for going from struggling to sold-out events (with engaged attendees),
How to beat (and come back) from burnout as an event professional – oy vey, how we need this one!
————-
Melissa Park is the founder and CEO of Melissa Park Events, an award-winning global event company specializing in creating high-impact live and virtual experiences. She is the creator of The Mel-Factor Method, a contributing writer to numerous publications, and a sought-after keynote speaker and panelist. Park has been named on the BizBash 500 Most Influential Event Pros list two years running, a 40 Under 40 by Connect Corporate, Rising Star in Events by Smart Meetings, and one of Special Events' 25 Young Event Pros to Watch.
UNIQUE FACTS
She splits her time between the US and Australia producing events, speaking, and consulting,
She has a track record of turning struggling events into sold-out experiences.
————-
Connect with Melissa on these channels:
————–
"Events: demystified" Podcast is brought to you by Tree-Fan Events and your Podcast Host is Anca Trifan, CMP, DES.
Let's chat about your event, and schedule a time that works for you via the 20 min free consultation link.
Original Podcast Music written and produced by Fable Score Music.
—————-
For event and podcast updates, tips, and tricks of the trade, follow us on these social channels:
Instagram: @eventsdemystifiedpodcast
Our BRAND NEW YouTube channel: https://www.youtube.com/channel/UC2_hOoPp_DhYCvaH2SznPNw
—
Send in a voice message: https://anchor.fm/eventsdemystified/message