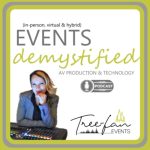 This week's woman behind the scenes and in front of the scenes featured guest is someone I admire a lot, my new friend, Melva LaJoy Legrand, founder/CEO of LaJoy Plans, an event planning firm, a self-made entrepreneur recognized for her work in the Live Events industry, as well as causes rooted in social equality as it pertains to women, health, and race & identity, Melva LaJoy Legrand is a public speaker, event producer/director, community activist, and writer. Melva is someone that is recognized nationally for her thought leadership, she has lent her expertise to topics surrounding Sexual Assault, Alzheimer's and Dementia, and Entrepreneurship, and she's willingly contributing from her wealth of knowledge to today's topics include:
Overcoming life and business hardship,
End-Of-Year self-reflection and evaluation of your career and business model,
The unglamorous side of events/things people, especially women should know before entering the industry.
UNIQUE FACTS
I relaunched my business in 2019 while being a caretaker for my beloved late father Melvin (he died in May 2021) and then watched all revenues dry up in 2020.
I am domestic abuse and rape survivor. I spent decades on a healing journey. Now healed, now complete, I strive to devote a lot of my life and volunteerism to speaking about life after abuse because I FULLY believe that there is a rich vibrant life post-trauma. I am a proud supporter of the Rain and Incest Network (RAINN) because they are one of the most important and comprehensive free resources for survivors.
Intentionally, my business is compromised of many former mentees and I am proud that I learned through trial and error how to become a good manager.
————-
Connect with Melva on these channels:
————–
"Events: demystified" Podcast is brought to you by Tree-Fan Events and your Podcast Host is Anca Trifan, CMP, DES.
Let's chat about your event, and schedule a time that works for you via the 20 min free consultation link.
Original Podcast Music written and produced by Fable Score Music.
—————-
For event and podcast updates, tips, and tricks of the trade, follow us on these social channels:
Instagram: @eventsdemystifiedpodcast
Our BRAND NEW YouTube channel: https://www.youtube.com/channel/UC2_hOoPp_DhYCvaH2SznPNw
—
Send in a voice message: https://anchor.fm/eventsdemystified/message