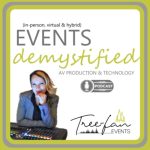 "Rehearsals are SO Important", "Generational gaps in tech crews can be so toxic at times", "Power struggles behind the scenes are real", "If you're working an event, be there because you care, not just to collect a paycheck"…
In one of the – sadly – few last episodes of the current running season "Women Behind The Scenes in Events and Event Productions" I have the honor of talking to Michelle Michelson, Teleprompter Operator and owner of Prompster and discuss some really difficult topics to address but much needed.
Michelle was so gracious to get out of her comfort zone and join me on air, staying open and authentic in our conversation.
She is my kind of woman in events, a small business owner that just like me, is organically grown and hustling to forge her own path in events. She's from NYC with a whole lot of teleprompter expertise and branching out the business to include graphics operating, content, and production managing.
She's been working in events and production for over ten years, starting out in NYC and moving west to Colorado to take on more travel event work and expand the company.
Tune into this episode as we address:
– the pros and cons of running a business remotely,
– networking and building a community in a unique niche,
– growing and expanding while taking on new roles within the events industry and pushing out of your comfort zones,
– crew culture and what is like being one of the younger techs on the crew and a female on top of everything else, working on events with gen z / x and boomers, and what conflict resolution looks like,
– innovative uses of prompter for events + production.
————-
Connect with Michelle on these channels:
————–
"Events: demystified" Podcast is brought to you by Tree-Fan Events and your Podcast Host is Anca Trifan, CMP, DES.
Let's chat about your event, and schedule a time that works for you via the 20 min free consultation link.
Original Podcast Music written and produced by Fable Score Music.
—————-
For event and podcast updates, tips, and tricks of the trade, follow us on these social channels:
Instagram: @eventsdemystifiedpodcast
Our BRAND NEW YouTube channel: https://www.youtube.com/channel/UC2_hOoPp_DhYCvaH2SznPNw
—
Send in a voice message: https://anchor.fm/eventsdemystified/message