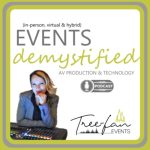 My last WOWman featured guest during our current running season "Women Behind The Scenes in Events and Event Productions" is Shay Wheat, a Certified Event Producer™ & creator of popular programs such as "The Powerful Event Process", "The Ultimate Event Planner Certification Program", and CEO of Grace & Ease Productions, Inc, which supports clients in creating Powerful and Profitable In-Person and Live-Virtual events.
Shay and her team have assisted Speak-to-Sell clients and many well-known celebrities such as Dr. Oz, Lisa Nichols, Dr. Claire Zammit, Bill Baren, Alison J. Prince, Josh Turner, etc to be extremely profitable with their events, helping her clients make over $25 million in revenue, gaining over 3,500 NEW clients and changing the lives of over 16,000+ attendees while handling all the planning, speaker & sponsor support as well as the production of Virtual Live and In-person events to create experiential, revenue-generating, and exciting events for attendees. And so today's topics are centered around:
The Power of Live (or Virtual) Events,
Using Events as a Powerful Business Strategy,
Creating a Powerful & Profitable Live (or Virtual Event).
Check out this free gift for you: fivephases.info/events-demystified
—————
Connect with Shay on these channels:
Personal Facebook | Instagram | Twitter @ShayWheat
Business Facebook | Instagram | Twitter @GraceAndEaseProductions
Website: www.GraceAndEaseProductions.com
Certified Event Producer™ certification at: https://shaywheat.com/cep/
—————
"Events: demystified" Podcast is brought to you by Tree-Fan Events and your Podcast Host is Anca Trifan, CMP, DES.
Let's chat about your event, and schedule a time that works for you via the 20 min free consultation link.
Original Podcast Music written and produced by Fable Score Music.
—————-
For event and podcast updates, tips, and tricks of the trade, follow us on these social channels:
Instagram: @eventsdemystifiedpodcast
Our BRAND NEW YouTube channel: https://www.youtube.com/channel/UC2_hOoPp_DhYCvaH2SznPNw
—
Send in a voice message: https://anchor.fm/eventsdemystified/message