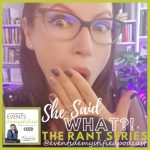 "Trying to predict the future is a loser's game." – Ken Liu
In this 2nd rant brought to you by Events: demystified Podcast, I am questioning the logic behind some of the event decisions made to go back to in-person full-steam ahead with what seemed to have been little considerations to how the attendees might feel about it, especially the ones who are not yet comfortable to join large gatherings, yet are left without an option because your event does not give them one.
I must profess from the get-go and say that some of my passion so visibly expressed does not mean harm nor ill intentions, it is my way of expressing a ton of feelings and sentiments on any particular topic which I feel strongly about. It might come across as belligerence, but rest assured, it is purely genuine passion because the NEW series: "She said WHAT? The Rant Series" – is where I go off the caff and say it as it is, tackling anything and everything in the AV production, technology, and event industry that not a lot of people are willing to talk about.
This podcast is brought to you by Tree-Fan Events, a woman-owned boutique event production agency – and your host is Anca Trifan.
—————————
Schedule your 20 min free consultation with our virtual and hybrid event experts by following this link.
Original Podcast Music written and produced by Fable Score.
—————————
You can find connect with me on here, as well as on LinkedIn and on social @treefan_events.
—————————
For event and podcast updates, tips, and tricks of the trades, find the podcast at these links:
Website: https://eventsdemystified.com/rant-series/
Instagram: https://www.instagram.com/eventsdemystifiedpodcast
Email me: 20*******@tr***********.com">podcast at treefanevents.com
—————————
Tree-Fan Events offers Hybrid Event Production Services: https://treefanevents.com/hybrid-event-services/
—————————
If you like our podcast, please show us some love by subscribing to this podcast on your favorite listening platform and following us on Instagram. By leaving a great review and hitting the 5 stars, you make this Podcast visible to other listeners with the same interests as you. Until next time!
—
Send in a voice message: https://anchor.fm/eventsdemystified/message