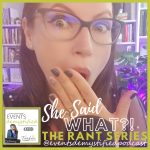 "Women, unlike men, are rarely perceived to be both competent and likable."
Today's RANT dives deep into the likability dilemma for women leaders or boss ladies, competence vs liability, a topic very much inspired by a recent TED talk I listened to, as well as some real-world case studies and recent event experiences from the world of AV event productions.
You can fill a room with studies on leadership that hail the importance of being a likable, honest, caring, and modest boss, but the truth is, as much as we talk about it, in the marketplace, that's not what people want most. When people have a chance to choose whom to work with, and their own success depends in part on those people, a new study finds that cold competence becomes more important and likability less so.
When money is on the line, in other words, most people would rather work for a very competent jerk than a nice but less competent boss.
Tune into this brand new RANT to find out where do I fall on this debate continuum and if you agree with me, or disagree.
—————————
This podcast is brought to you by Tree-Fan Events, a woman-owned boutique event production agency – and your host is Anca Trifan.
—————————
Schedule your 20 min free consultation with our virtual and hybrid event experts by following this link.
Original Podcast Music written and produced by Fable Score Music.
—————————
You can find connect with me here, as well as on LinkedIn and on social @treefan_events.
—————————
For event and podcast updates, tips, and tricks of the trades, find the podcast at these links:
Website: https://eventsdemystified.com/rant-series/
Instagram: https://www.instagram.com/eventsdemystifiedpodcast
Email me: 20*******@tr***********.com">podcast at treefanevents.com
—————————
Tree-Fan Events offers Hybrid Event Production Services: https://treefanevents.com/hybrid-event-services/
—————————
If you like our podcast, please show us some love by subscribing to this podcast on your favorite listening platform and following us on Instagram. By leaving a great review and hitting the 5 stars, you make this Podcast visible to other listeners with the same interests as you. Until next time!
—
Send in a voice message: https://anchor.fm/eventsdemystified/message