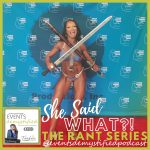 "You will never know your limits unless you push yourself to them".
As the world of events started to open back up, many #eventprofs (including myself) have been packing their bags a whole lot this summer after an almost two-year downtime, and so re-learning what staying healthy while on the road and long events days remains a big priority, especially amid COVID-19. Tune into this brand new rant as I am demystifying the complex dilemma of keeping healthy, eating healthy and sticking to a fitness routine during long show days and weeks that run one into each other. Throw a fitness bodybuilding competition into the mix, and let's see how can one handle it…
PS: Do send my way your positive vibes, prayers, etc, and wish me luck as I am deep in Prep this week, in the midst of Peak Week, and I will be traveling to the WA state for the Olympic Natural INBF competition that will take place on Sept 3rd. A lot of hard work went into the package I'll be presenting on stage.
PPS: The competition went extremely well and I took home TWO First Places in INBF Debut and Masters and a medal for Open Short.
—————————
This podcast is brought to you by Tree-Fan Events, a woman-owned boutique event production agency – and your host is Anca Trifan.
—————————
Schedule your 20 min free consultation with our virtual and hybrid event experts by following this link.
Original Podcast Music written and produced by Fable Score Music.
—————————
You can find connect with me here, as well as on LinkedIn and on social @treefan_events.
—————————
For event and podcast updates, tips, and tricks of the trades, find the podcast at these links:
Website: https://eventsdemystified.com/rant-series/
Instagram: https://www.instagram.com/eventsdemystifiedpodcast
Email me: 20*******@tr***********.com">podcast at treefanevents.com
—————————
Tree-Fan Events offers Hybrid Event Production Services: https://treefanevents.com/hybrid-event-services/
—————————
If you like our podcast, please show us some love by subscribing to this podcast on your favorite listening platform and following us on Instagram. By leaving a great review and hitting the 5 stars, you make this Podcast visible to other listeners with the same interests as you. Until next time!
—
Send in a voice message: https://anchor.fm/eventsdemystified/message