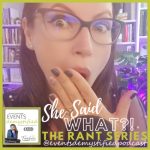 "Colors, like features, follow the changes of the emotions" – Pablo Picasso
Did you ever feel anxious in a yellow room? Does the color blue make you feel calm and relaxed?
In the 5th rant brought to you by Events: demystified Podcast, I'm making the case for color and what a powerful communication tool it is, and how it can be used to signal action, influence mood, and even influence physiological reactions. I am also sharing how I am totally fond of this one particular color that inspired higher thinking in me during a situation when I was about to unleash a nuclear amount of passion onto someone that had it coming for them.
But I didn't and I'm so proud of myself, and I'm possibly crediting my self-control to this one color that you might wanna surround yourself with, during stressful situations.
Also, this if not news, artists and interior designers have long believed to be true: color can dramatically affect moods, feelings, and emotions. However, your feelings about color are often deeply personal and rooted in your own experience or culture. Tune in to find out how a certain color has inspired a level of generosity beyond anything else I've ever seen before!
This podcast is brought to you by Tree-Fan Events, a woman-owned boutique event production agency – and your host is Anca Trifan.
—————————
Schedule your 20 min free consultation with our virtual and hybrid event experts by following this link.
Original Podcast Music written and produced by Fable Score Music.
—————————
You can find connect with me here, as well as on LinkedIn and on social @treefan_events.
—————————
For event and podcast updates, tips, and tricks of the trades, find the podcast at these links:
Website: https://eventsdemystified.com/rant-series/
Instagram: https://www.instagram.com/eventsdemystifiedpodcast
Email me: 20*******@tr***********.com">podcast at treefanevents.com
—————————
Tree-Fan Events offers Hybrid Event Production Services: https://treefanevents.com/hybrid-event-services/
—————————
If you like our podcast, please show us some love by subscribing to this podcast on your favorite listening platform and following us on Instagram. By leaving a great review and hitting the 5 stars, you make this Podcast visible to other listeners with the same interests as you. Until next time!
—
Send in a voice message: https://anchor.fm/eventsdemystified/message