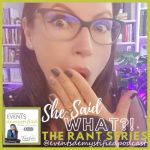 The April 1st RANT features ? ????? ???????: Anca Trifan (/'treefʌn/) CMP, DES 4.0 ??? ???????? ?.? ???????! Join me on the Events: demystified Podcast as I celebrate someone I rarely get to celebrate: myself! It's my birthday, it's a MAJOR one and I'm sharing some of the lessons learned in the last 40 trips around the sun, those are a LOT of trips around the sun, yet I've never felt better and more confident in my life, so cheers to that! ?
PS: Also, is it confidence or arrogance to admit you're hotter turning 40 than you were turning 20? I will let you all decide. I promise I'll be fine either way.
This podcast is brought to you by Tree-Fan Events, a woman-owned boutique event production agency – and your host is Anca Trifan.
—————————
Schedule your 20 min free consultation with our virtual and hybrid event experts by following this link.
Original Podcast Music written and produced by Fable Score Music.
—————————
You can find connect with me here, as well as on LinkedIn and on social @treefan_events.
—————————
For event and podcast updates, tips, and tricks of the trades, find the podcast at these links:
Website: https://eventsdemystified.com/rant-series/
Instagram: https://www.instagram.com/eventsdemystifiedpodcast
Email me: 20*******@tr***********.com">podcast at treefanevents.com
—————————
Tree-Fan Events offers Hybrid Event Production Services: https://treefanevents.com/hybrid-event-services/
—————————
If you like our podcast, please show us some love by subscribing to this podcast on your favorite listening platform and following us on Instagram. By leaving a great review and hitting the 5 stars, you make this Podcast visible to other listeners with the same interests as you. Until next time!
—
Send in a voice message: https://anchor.fm/eventsdemystified/message