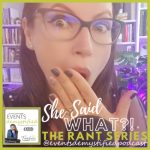 "The beginning of wisdom is the definition of terms."― Socrates.
Let me ask you a question. What do you think of when you hear Live Event Production? Does that ring the same in your mind, with Virtual Event Production? Today I am on a rant to discuss the two, and then some. My hope is to demystify the differences that exist between all these digital event terms and where event production intersects with technology to deliver a fantastic event.
So, if you landed on this Rant by mistake, let me assure you: you're in the right place, you're taking the time to learn, brush up on your skills, or even develop new skills and lay down a foundation for what could be new opportunities, and I am so glad you're here, I appreciate you for carving this time and making the time investment for yourself, but also for your team, your clients and the future of your career in the industry.
—————————
This podcast is brought to you by Tree-Fan Events, a woman-owned boutique event production agency – and your host is Anca Trifan.
—————————
Schedule your 20 min free consultation with our virtual and hybrid event experts by following this link.
Original Podcast Music written and produced by Fable Score Music.
—————————
You can find connect with me here, as well as on LinkedIn and on social @treefan_events.
—————————
For event and podcast updates, tips, and tricks of the trades, find the podcast at these links:
Website: https://eventsdemystified.com/rant-series/
Instagram: https://www.instagram.com/eventsdemystifiedpodcast
Email me: 20*******@tr***********.com">podcast at treefanevents.com
—————————
Tree-Fan Events offers Hybrid Event Production Services: https://treefanevents.com/hybrid-event-services/
—————————
If you like our podcast, please show us some love by subscribing to this podcast on your favorite listening platform and following us on Instagram. By leaving a great review and hitting the 5 stars, you make this Podcast visible to other listeners with the same interests as you. Until next time!
—
Send in a voice message: https://anchor.fm/eventsdemystified/message