ALLOW US TO TAKE CARE OF YOUR EVENT'S TECHNICAL NEEDS
Our goal is to provide you with a range of services that you can pick and choose from, according to your needs.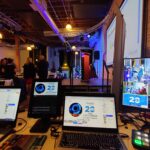 VIRTUAL & HYBRID EVENT SERVICES
Live-streaming is not a 2020 new concept to us. Since March of 2020, we have done it full-time with the highest safety concerns in mind while planning, producing, and live-streaming over 100+ virtual and hybrid events, assisting local, national, and global organizations to produce their very first virtual or hybrid event. We have everything necessary to develop the right solution and strategy for your event to meet your event's technology and production needs, may that be virtual or hybrid. Staying at the forefront of technology allows us to utilize the most advanced tools in the industry. We incorporate our in-depth hands-on knowledge of in-person av production into our virtual live-streaming branded video productions, resulting in memorable events for our clients.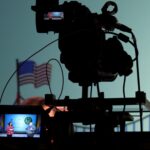 CONTENT CREATION & VIDEO PRODUCTION
Our creative approach for every content creation and video production project is a dynamic collaboration in visual and emotional storytelling. Each project consists of treatment (script), which once finalized, we use this document as a blueprint to begin the detailed pre-production process.  We provide all-inclusive corporate, non-profit, educational video creation and production services, starting with creating several graphics packages to match your and best represent your brand in order to increase brand awareness and deliver tangible results. If you're in need of branded video content for internal communications, educational purposes, or organizational videos with clear CTA, we can help!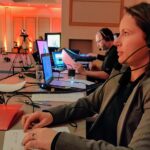 EVENT MANAGEMENT, DESIGN & LOGISTICS
With us, you and your organization can take full advantage of our two-decade-long expertise and experience planning, managing, and producing in-person events that make you and your team look good, and your attendees satisfied after a memorable event, may that be virtual or hybrid. We will work closely with you and your team to determine your event's specific needs and define how we can best assist you to maximize your event's potential and meet your goals with all the technology and production tools at hand. We take the stress and guesswork out of technical planning, offering guidance and support in the pre-event production phase, as well as the day of the event, so you can focus on maximizing your strengths on what's most important to you in achieving your event goals.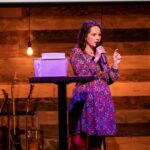 EVENT SPEAKER & EMCEE
Anca Trifan loves to speak either in-person or virtually on topics related to empowering women and small business owners in the event tech and production space, strategies for using technology and production as tools to elevate events,  supporting diversity and equality in the workplace, creating leadership opportunities for women, practical tips for work-life integration and balance, fundraising strategies, and faith in action.
See Anca's speaking engagements on video here.
Anca also leads workshops, seminars, sessions, and webinars on diverse technical and production-related topics.
Our approach to implementing our services is straight-forward and it consists of three simple steps:
We want to know everything there's to know about your event – may that be an in-person, hybrid or virtual event – so that it can be a memorable experience for you and for your audience, as well as reach its potential from a financial and ROI point of view. We will listen to your vision, what your goal for the event is, we'll ask questions related to date, time, location, space, budget, design concept, content, entertainment talent (if any), timeline, program details and what other partners and vendors you're already working with, for the purpose of seamless coordination and communication. It is crucial that we listen first to what your needs and wants are for your upcoming in-person, hybrid or virtual event.
Armed with all the known up-to-date information gathered, we will embark onto the most essential part of the process: technical planning. We will create a preliminary proposal including high-value AV packages, with a clear and final budget in mind, we will connect and collaborate closely with all additional vendors and manage their involvement, budget and needs, we'll get in touch with your talent and accommodate for their tech rider needs, we will create a timeline and a production schedule for all the suppliers involved, we'll arrange for load-in/load-out times, any walk-through necessary prior to the event, and schedule all run-throughs the day of the event with your presenters, hosts, MC, benefit auctioneer, entertainment talent, etc.
Once we plan the work, we will then work the plan the day of the event. Our loyal event production AV partners will always deploy a custom-designed high performance sound, video, projection, lighting, IMAG system to the event site, will efficiently set it up and operate it, because each professional AV equipment piece has been carefully selected to produce excellent results. The technicians are professionally trained and fully equipped to run sound, video, lighting, camera(s) without any hitches or glitches, under this watchful Producer's eye.