Just last week I made the decision (almost overnight really) to join some of my friends in-person in Las Vegas to attend IMEX America '21.  For anyone who's not familiar with what IMEX is, IMEX America is the global conference for incentive travel, meetings, and events. With powerful educational sessions tailored to attendee learning preferences, it's an ideal opportunity to get the latest industry knowledge with ground-breaking keynotes from industry speakers and endless possibilities to connect with like-minded peers, as more than 3,300  global buyers and over 2,250 exhibiting companies made their way to Mandalay Bay, IMEX America's new site after being held at the Sands Expo since its first show in 2011.
As the "heartbeat of the global business events community", it really is a must-attend industry event for business professionals!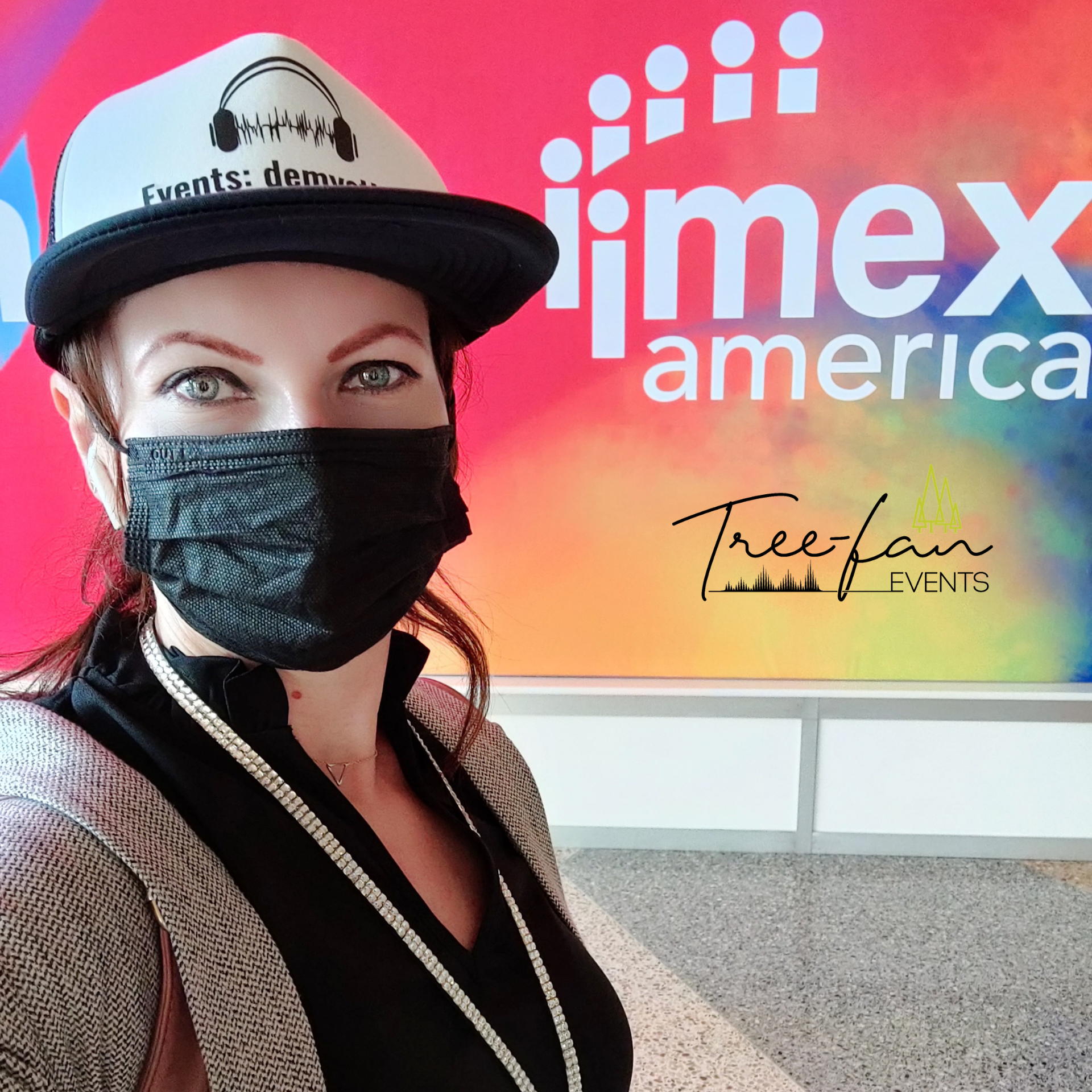 Here are my #IMEX21 takeaways:
of all the great sessions and interesting exhibitors that were partaking in the IMEX America experience this year, my #1 highlight has definitely been the human factor, the networking is done in flesh and bone with new and old friends, potential future partners, clients, meeting new vendors, etc
I had no hidden agenda aside from having a grand time, and I had left IMEX with so many good memories and new connections made, future podcast guests to be featured on the "Events: demystified" show, memorable conversations and future collaborations to be had
I truly appreciated the organizer's efforts to keep everyone safe and the process through which one could prepare in advance for doing their part by following the instructions sent well in advance on how to get your Health Pass by Clear– for US nationals validated and in the green, ready to go
I liked the app that accompanied the trade-show, as primitive as it was, I ended up using it quite a lot to organize my daily schedule around the agenda provided, as well as find my way around on the exhibitor floor, which was truthfully where it really became a great tool to have especially since the way the Booths got numbered made very little sense to me (and apparently others too)
I also highly enjoyed the "She Means Business" sessions – a celebration of women in business and events, as well as the other Smart Mondaysessions, powered by MPI (Meeting Professionals International), which also sponsored the keynote and featured headliners such as best-selling author and global social entrepreneur Shimi Kang; Daybreaker co-founder and CEO Radha Agrawal; author and thought leader Erik Qualman; and the "un-keynote" Rx Fogart
Loved the brand-new tech and innovation education tracks and because I had no prior commitments, I was able to take advantage of many of them which was very enlighting
Of all the after-hours happy hours, receptions, and events scheduled in the evening, MPI's Rendezvous dance party held at Drai's rooftop Beachclub & Nightclub was my favorite, also the major fundraiser for the MPI Foundation and an always-popular networking event (although not much networking was done for me, being too busy dancing to EDM music the entire night)
Overall, I had a fantastic experience, the event seemed to have gone off with little issues, and I would do it again in a heart-beat (maybe decide to go much sooner so I can stay at Mandalay Bay instead of Luxor, which was a daily fun walk to do two-three times a day, and many thousands of steps in the making)
All that to say, here's what I would have liked to see differently:
the learning sessions seemed to have come to be as a second thought and while the space was nicely organized in the Innovation Hub for said sessions, finding this particular spot and being aware of what's happening there took about half a day since it was on the outskirts
the Smart Monday keynote session was very nicely outfitted with AV and experienced tech labor, however, the breakout sessions were a complete mess with wireless mics dropping left and right, feedback issues, and video connectivity which inhibited some of the presentations from making it onto the screen in the first place – which at a conference for event professionals, we can not tolerate anything but exceptional AV, we need to have and be held at a higher standard than that, especially since we're to plan and produce flawless events for our clients
the EventMB Innovation Lab should have been assigned a much larger space knowing in advance that it would have been being sold out with all the highly known event professionals lined up to speak – it worked out in the end, but it was cozy tight, a bit too tight for COVID comfort really
the tech presence was quite low and as many others have expressed before, for IMEX to continue to stay relevant in the years to come, technology and production needs to become a core element of the trade show
I'd have loved to receive push notifications on the app to highlight said sessions, what's coming next and the location of each session would have been helpful
having an open larger common space for coffee breaks/networking opportunities for everyone else that was not a Hosted Buyer (and therefore had no access to the Lounge)
the Hosted Buyer Lounge was a great idea but it seemed to have taken many buyers away from the tradeshow floor and away from many opportunities to engage and actually use their buying power so business gets done
while there were a few food options available, there were very limited options for anyone observing any one particular diet, especially in my case, high-protein + low-carb
virtual should have had a much bigger presence on the floor, it felt lost in the Hybrid space
Shhh… the "Events: demystified" Podcast swag-hat made it on the highlight page of IMEX America in 100 pics – The best pics of IMEX America 2021 under "Smart Monday"
Again, for a first-timer here, this was an amazing experience, kudos to the organizers for keeping us safe, and to all the big players that sponsored so many of the receptions, happy hours, and experiences that were had.
Check out this Highlight Reel to give you a quick look behind IMEX and create some FOMO for you to join me next year!
In conclusion,
My top highlight of IMEX America'21 has definitely been the human factor. Reconnecting with old friends, putting an actual height to all those Zoom faces I got to meet and make acquaintances and friends virtually. Many of us working remotely from home might not get much of an opportunity to collaborate with others within the compounds of four walls and while a lot of collaboration is possible virtually as this new reality has become part of how we operate and do business now, the in-person factor of people working together, exchanging ideas and feeding off of each other's energy is a luxury that we took for granted for far too long, yet so important to how us humans connect, co-create and collaborate.
In-person industry conferences might as well be the future of how remote teams get to have the in-person 'face-time' required to solidify the relationship started virtually.