Skift Take
Anca Platon Trifan, Founder, Creator, and CEO of Tree-Fan Events & and Podcast Host and Producer of Events: Demystified podcast, on increasing female representation in event production, collaborating with competitors, and the importance of physical and mental fitness. – Skift Meetings Studio Team
As a passionate event production professional and entrepreneur, Anca is one of the female events industry leaders who are inspiring women across the industry.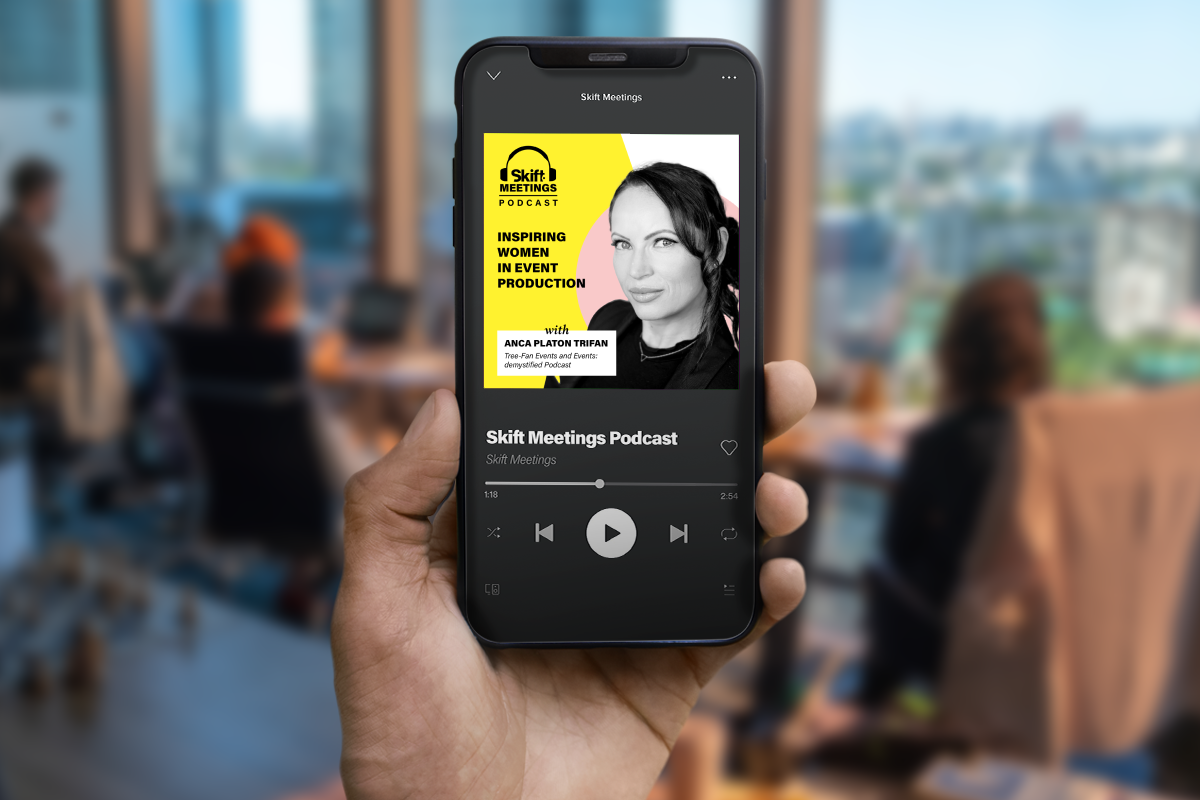 Anca started her career in radio, during her high school and college years, before completing a degree in computer science and moving from Romania to the US. In her early work in the events industry, Trifan focused on the audio-visual elements of event production, specifically live events. She learned audio-visual from the ground up and progressed to leading teams for events such as fashion shows and live concerts. However, Trifan discusses the experience of burnout, which led her to make the pivot to corporate events, where she was more focused on the planning and execution of events in roles such as project manager or technical event director. Trifan now runs her own agency focused on event planning and production.
In an almost 20-year career within event production and AV, all her mentors have been male. There were simply few female event industry leaders working back of house. While all her mentors were great, it is important for women to be represented and see that they can thrive and progress in their careers while working in these roles.
She has encountered many situations where anyone involved with an event automatically assumes that a man is leading the production team, heading directly to them rather than Trifan. These experiences highlight the challenge, but also the importance of normalizing women in technical production roles.
Keys to Success
One of the keys to ensuring success is knowing what you do not want to take on. If you're not passionate about something or an expert in that area, you should outsource it to others. For Trifan, this means reaching out to the partners and resources she's developed over the years. She believes everyone can coexist together if we embrace an abundance mindset. There are times when you may compete with your partners and others where you are collaborating with them, and she refers to this as co-opetition.
Fitness has always been an important part of Trifan's life. The strength and stamina she develops through her fitness routine allow her to do her job well, for example by enduring long hours or moving heavy equipment. For her, following a program is important for achieving breakthroughs in fitness and life. She notes that The benefits from her routine approach have also extended into her mental fitness, which has had a positive impact on her personal and professional life.
Looking Ahead
The metaverse is one of the emerging technologies of the moment, with many wondering about the impact it could have on events. Trifan is actively exploring the metaverse and advises others to spend time and resources now to understand what it can bring to the table. So far she has been impressed with the potential limitless creative possibilities of working in the metaverse. The removal of all physical limitations is particularly fascinating.
Want to hear more about Anca's journey and advocacy for women within event technology and production? Listen to the full podcast episode, or access the episode via your favorite podcast service. Source: https://meetings.skift.com/inspiring-women-in-event-production/
---
---
Is your event in need of a strategic approach? We can help! Our team of experts can provide you with the tips and advice you need to make your event a success. From pre-event planning to execution and post-event content editing, we have you covered. We help you with the implementation of production and technology, as well as the day-of execution of your event. Our strategy tips range from practical tips to out-of-the-box strategies to implementation right after our call to make sure your event is successful regardless of whether or not you use our services. We offer a free 20-minute consultation to discuss your event and your needs.
Contact us today to learn more about how we can help you make your event a success!