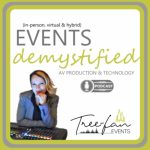 Welcome to a new episode of "Events: demystified" brought to you by Tree-Fan Events, with your host, Anca. Now that 2020 is behind us, welcome to 2021! Hope you all had a great holiday season, wishing you all a happy and… a different kind of new year!
In the first episode of 2021, we will cover a few emerging trends this year, such a technology and production, what will make a great hybrid experience for events, what is a micro-event experience, how is tech being repurposed to serve the current needs in the event industry as it's embarking for a hybrid event format and more…
Stay tuned and don't forget to hit subscribe so you get notified of new podcast episodes as they come out as we've got quite the line up this spring!
Mentioned in this episode:
Virtual Fundraising Case Studies
Please contact us here to get a free copy of the strategy roadmap for transitioning from an in-person gala to a virtual event.
—————————
For event and podcast updates, tips and tricks of the trades, find us on Social Media on these channels:
Podcast Link: https://treefanevents.com/podcasts/
Instagram: https://www.instagram.com/treefan_events/
Facebook: https://www.facebook.com/TreeFanEvents/
Twitter: https://twitter.com/treefan_events
I welcome your feedback and suggestions via social media direct messaging or email at po*****@tr***********.com/" rel="ugc noopener noreferrer" target="_blank">po*****@tr***********.com If you liked what you heard, please show us some love by subscribing to this podcast on Spotify, Apple Podcasts, Google Podcasts, or your favorite listening platform. By leaving a great review and hitting the 5 stars, you make this Podcast visible to other listeners with the same interests as you.
—
Send in a voice message: https://anchor.fm/eventsdemystified/message
Support this podcast: https://anchor.fm/eventsdemystified/support