Online Fundraising with a Live-Streaming component of the Live Auction has been plan A for many non-profit organizations since March of 2020. For the last nine months we, along with our partners, benefit auctioneers and fundraising ambassadors, we have been able to help support the important work so many non-profits do with the use of technology and broadcasting production tools. The case for virtual events has been made not just by us, but by many others that have also experienced first hand the benefits of planning virtual events that are:
cost effective – basically a fraction of the cost of what an in-person event costs,
there's literally no travel time involved,
they're inclusive – no more limited to a geographical location,
they're safe – which is a great consideration today,
they're pretty flexible  – with live, prerecorded or on-demand methods of delivery & engagement,
they're environmentally conscious – which is something not thought about often enough but is extremely important, and
they have a much wider reach which for non-profits opened up the possibilities of reaching out to a much larger donor base.
With savvy marketing virtual fundraising events expand the visibility of the cause bringing greater awareness. Intentional story-telling through photo and video content during the LIVE broadcast of the event helps viewers make an emotional connection to the cause, so much as that the initial pledge, bid, or donation now connects the donor to the charity. In business terms, the term 'customer acquisition' is being used to describe this outcome, while in our scenario here, virtual events expand the 'benefactor acquisition'. Many professional benefit auctioneers see increased participation during the live-streaming of the virtual fundraising event which in returned has increased the fundraising opportunities for online auctions since the on-set of the current pandemic.
Today we will provide you with three case studies of how important is for non-profit organizations to consider taking advantage of this opportunity for Virtual Fundraising during the Spring of 2021.
Case Study #1
On October 21st, we had the opportunity to produce a virtual fundraising event that replaced a gathering event for one of our preferred benefit auctioneer's  longtime client. The client was a small organization providing health, nutrition, and education services to over 500 children in Makindu, Kenya. In the past, the gathering event was relatively small with roughly 80 attendees in their hometown of Eugene, Oregon. When Patrick Siver, BAS of gEvents reached out to the Executive Director to discuss her upcoming fall event, she was very nervous at the idea and expressed high concerns with not having enough resources to plan and produce an event this year because of the funds being drastically cut due to the pandemic. After sharing some of the success stories we've been having of other non-profits just like hers, she agreed to move forward and give it a try. During the LIVE streaming of the online fundraising event with the online catalog built on the Auctria platform, we had an extremely successful event generating over 28% more in net proceeds…and the number continues to grow daily as people continue to donate post-event, supporting the amazing work this organization does, with the live-streaming feed being available to this day for replay on the organization's landing page.
Case Study #2
For the first time, Oregon Episcopal School went virtual this year for their annual auction instead of the traditional in-person event held mid-March. Us, our live-streaming partner and our planning partners worked around the clock to pivot what would have been a 600 in-person gala to a virtual event in less than 72 hours, which paid off tremendously in the end, since through the silent online auction hosted on the Greater Giving platform, the live streaming of the live auction, the 2020 OES Auction with the help of Fundraising Ambassador Johnna Wells, raised over $600,000,triple than any of their past in-person fundraising efforts. The proceeds raised contribute to the OES Fund, which supports students from the classroom to the playing fields and enables teachers to hone their craft through professional development. The annual Auction advances their mission to prepare students to realize their power for good as citizens of local and world communities. This fundraising format has worked so well for the Oregon Episcopal School that they are now planning their 2021 Virtual Fundraiser on March 13th, 2021. You can watch the replay here.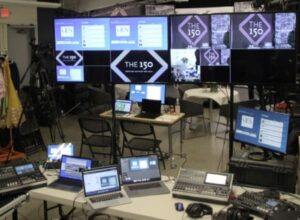 Case Study #3
For over 25 years, ¡Salud! has been dedicated to providing healthcare services and outreach to Oregon vineyard workers and their families. Their 2-day in-person event has always been the talk of town, highly coveted to be attended. This year, with the event going virtual, during the one week of online bidding culminating with a live streaming of the live auction on Saturday, November 14th, the event raised more than ONE MILLION dollars! The community came together virtually to strengthen ¡Salud! services so important for the vineyard workers and their families during such a critical time,  and the support was overwhelming. The live streamed auction emceed by Brian Bushlach and benefit auctioneer Kelly Russell of Artisan Auctions raised close to $350K, while the remaining funds have been raised pre- and post live broadcast taking full advantage of the power of the replay by re-posting the live streaming link to a custom landing page where donors returned to in the days to follow to re-watch, donate and support the work of this great organization, proving yet again how virtual fundraising brings real results.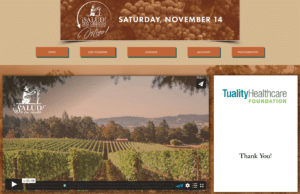 How much more money could your organization raise in 2021 by taking your fundraiser virtually?
Schedule a time with us today and let's find out! 
If these three case studies have not yet convinced you that virtual fundraising is right for your organization, by taking advantage of our free consulting time we could brain-storm and find out all the ways that might work best for you and your fundraising goals. We can provide you with many tips that can fortify your fundraising strategy & generate revenue through online auctions and live-streaming! The amazing thing about our production services that go outside the Zoom box is that it provides organizations with high value content that they can use later because it's already been produced with all the graphics, overlays and lower thirds that a professional video requires. If this is not enough, the other good news is that our pricing is very accessible to nonprofits because we know that they already struggle with meeting their annual budget. Don't delay in taking advantage of all the virtual fundraising opportunities available to you!


Also, don't just take our word for granted. Read some of the testimonials received from organizations we've helped so far and preview samples of our events by contacting us directly.