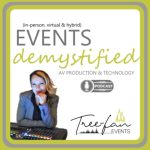 "Events: demystified" Podcast turns TWO this month – can you believe it?! With that, we're kicking off the anniversary celebration with an amazing line-up of featured guests that you won't want to miss! Tune in in this short K/O introduction to find out who our guests are, what we will be covering during each one of the new upcoming episodes to be released EACH FRIDAY in JULY!
If you're listening to this episode, you might also want to watch this LIVE on Friday, July 2nd at 10am MT/9am PT on our Facebook and YouTube pages, as well as our LinkedIn profile, so you're fully in the know with what's happening behind the scenes, in the woods, surviving another animal attack, reminiscence of last year's episode recorded in some other Idaho forest, only this time I get to introduce our amazing line-up airing out every Friday in July but also busting into moves on our brand new remix by Fable Score of our podcast theme song!
This is brought to you by Tree-Fan Events and I'm your host, Anca, super excited about what's in store for our listeners this month!
Oh, and BTW, connect with me via WHATSAPP at #208.985.8620, and send me your feedback, suggestions, ideas for future topics and/or guests!
—————————
For event and podcast updates, tips, and tricks of the trades, follow us on these social channels:
Instagram: https://www.instagram.com/eventsdemystifiedpodcast
Patreon: https://www.patreon.com/eventsdemystified
Podcast Website: https://eventsdemystified.com
—————————
Tree-Fan Event's Hybrid Event Production Services: https://treefanevents.com/hybrid-event-services/
—————————
If you liked what you heard, please show us some love by subscribing to this podcast on Spotify, Apple Podcasts, Google Podcasts, or your favorite listening platform. By leaving a great review and hitting the 5 stars, you make this Podcast visible to other listeners with the same interests as you. Here's to many successful IRL or hybrid events! Until next time!
BMBTAInrzwaVbrMzw0kg
—
Send in a voice message: https://anchor.fm/eventsdemystified/message