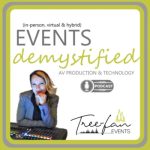 This is "Events: demystified" brought to you by Tree-Fan Events with your host, Anca. HUGE honor to feature Julius Solaris on today's episode, currently the head of engagement at Swapcard, previously known as the founder and editor in chief of EventMB, acquired in 2019 by Skift, the largest and most influential travel media company worldwide.
Julius has always been (secretly, and not so secretly) one of my heroes in event tech and to interview one of the most influential individuals in the meetings industry by many magazines and media for the past 10 years has been beyond cool, especially as we're kicking off our Anniversary special month of weekly episodes!
During today's episode,
– we get some of Julius's behind the scene thoughts from MPI's WEC in Vegas that just happened recently, one of the first in-person events that he attended since the onset of the pandemic,
– the challenge of engagement with virtual and now hybrid events,
– we take a peek into Julius's crystal ball to find out what the next event trends might be for Fall of 2021/Spring of 2022,
– how to best use the tech tools at hand to better design a memorable event experience,
– and of course, mental health and what does Julius does to relax and keep his mind sharp.
Tune in for way more thoughts and tips shared by Julius during today's episode!
—————————
You can find Julius on these social channels:
https://www.juliussolaris.com/
https://www.linkedin.com/in/juliussolaris/
—————————
For event and podcast updates, tips, and tricks of the trades, follow us on these social channels:
Instagram: https://www.instagram.com/eventsdemystifiedpodcast
Patreon: https://www.patreon.com/eventsdemystified
Podcast Website: https://eventsdemystified.com
—————————
Tree-Fan Event's Hybrid Event Production Services: https://treefanevents.com/hybrid-event-services/
—————————
If you liked what you heard, please show us some love by subscribing to this podcast on Spotify, Apple Podcasts, Google Podcasts, or your favorite listening platform. By leaving a great review and hitting the 5 stars, you make this Podcast visible to other listeners with the same interests as you. Here's to many successful IRL or hybrid events! Until next time!
—
Send in a voice message: https://anchor.fm/eventsdemystified/message