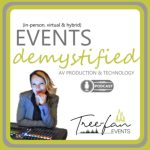 This is "Events: demystified" brought to you by Tree-Fan Events with your host, Anca, and on today's episode I have the pleasure of interviewing Samantha Swaim of Swaim Strategies. Sam, as friends and friendors candidly call her, has more than 20 years of event planning and fundraising expertise. She founded Swaim Strategies, a fundraising event consultancy, in 2004, working with nonprofit organizations to produce impactful events locally and internationally, and move missions forward. Samantha is also the co-author of "Planning a Successful Major Donor Event" and the founder of the Annual Elevate Fundraising Conference. She travels internationally to teach nonprofit professionals the tools they need to elevate their impact through events.
A few fun facts about our featured guest:
Sam used to work for the Grammys,
she has been producing fundraising events for 20+ years,
she adopted two puppies during COVID.
During today's episode, we discuss topics such as:
– the future of fundraising events post-Covid,
– the top 3 mistakes to avoid when hosting a hybrid fundraising event,
– the associated cost to planning and producing a hybrid event vs an in-person event,
– the best way to manage expectations for a client that:
has either hosted a virtual event in 2020 and is now considering a hybrid, or
has never hosted a virtual event before and is just diving into this hybrid event format,
– top tips on connecting the virtual vs in-person communities
together
– ways to monetize your event on a 365-day basis without sacrificing the user experience for attendees,
– decision fatigue, mental health practices, and a few more topics you would love to hear all about.
—————————
You can find Samantha here:
https://www.linkedin.com/in/samantha-swaim-she-her-a28a9a4/
—————————
For event and podcast updates, tips, and tricks of the trades, follow us on these social channels:
Instagram: https://www.instagram.com/eventsdemystifiedpodcast
Patreon: https://www.patreon.com/eventsdemystified
Podcast Website: https://eventsdemystified.com
—————————
Tree-Fan Event's Hybrid Event Production Services: https://treefanevents.com/hybrid-event-services/
—————————
If you liked what you heard, please show us some love by subscribing to this podcast on Spotify, Apple Podcasts, Google Podcasts, or your favorite listening platform. By leaving a great review and hitting the 5 stars, you make this Podcast visible to other listeners with the same interests as you. Here's to many successful IRL or hybrid events! Until next time!

—
Send in a voice message: https://anchor.fm/eventsdemystified/message