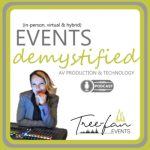 This is "Events: demystified" brought to you by Tree-Fan Events with your host, Anca. While the work of a good planner is to make sure the event goes off without a hitch, the work of great event designers is to make that event memorable by allowing the creative juices to start flowing freely in order to create the feel, look, and atmosphere that not only matches the brand or the cause but also impresses attendees and leaves them with a positive memory long after the event is over. With that thought in mind, join me for a fun conversation around experience design solutions for virtual and hybrid events with experience architect, John Pistotti of Endless Events.
A few fun facts about John:
– his first job was as banquet staff for parties at the Playboy Mansion, LA
– he worked as a sushi chef,
– he was also an adventure guide leading trips up Half Dome in Yosemite, midnight snowshoeing in Lake Tahoe, and mountain biking in Santa Cruz.
We will be streaming LIVE a video extended version of this episode on Friday (July 23rd) at 9am PT/10am MT/12pm ET on LinkedIn, Facebook and Youtube. https://youtu.be/M6hTmmuWJqQ
—————————
You can find John here:
www.linkedin.com/in/johnpistotti
—————————
For event and podcast updates, tips, and tricks of the trades, follow us on these social channels:
Instagram: https://www.instagram.com/eventsdemystifiedpodcast
Patreon: https://www.patreon.com/eventsdemystified
Podcast Website: https://eventsdemystified.com
—————————
Tree-Fan Events offers Hybrid Event Production Services: https://treefanevents.com/hybrid-event-services/
—————————
If you like our podcast, please show us some love by subscribing to this podcast on your favorite listening platform and following us on Instagram. By leaving a great review and hitting the 5 stars, you make this Podcast visible to other listeners with the same interests as you. Until next time!
—
Send in a voice message: https://anchor.fm/eventsdemystified/message