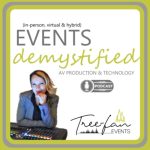 On today's episode of "Events: demystified" brought to you by Tree-Fan Events and your host, Anca, we are tackling all things promotional, branding and marketing and ways in which event organizers can deliver ROI to their sponsors, engage and delight their virtual/in-person audiences and market their event in a clever and creative way. And since marketing is not really my first language, or second, I have with me on the show today, Swire Ho aka #thepromoguy, from Garuda Promo, a branding solution company that serves organizations large and small with fun, out of the box, creative promotional items. A couple of fun facts about Swire:
he is a proud SFG1 certified kettlebell instructor from #StrongFirst,
the host of a podcast called "The Small Business Show"
We will be streaming LIVE a video extended version of this episode on Friday (Aug 13th) at 9am PT/10am MT/12pm ET on LinkedIn, Facebook, and Youtube. Pick a destination and join us LIVE. Or subscribe to our channels on YouTube to receive a reminder every time we go LIVE.
Check out the episode Anca, our host got featured on "The Small Business Show" not too long ago: https://youtu.be/Z645HfAZbdM
—————————
You can learn more about Swire Ho here: https://www.linkedin.com/in/swire-ho-thepromoguy-6b90631/
Also, on social @garudapromo
—————————
For event and podcast updates, tips, and tricks of the trades, follow us on these social channels:
Instagram: https://www.instagram.com/eventsdemystifiedpodcast
Patreon: https://www.patreon.com/eventsdemystified
Podcast Website: https://eventsdemystified.com
—————————
Tree-Fan Events offers Hybrid Event Production Services: https://treefanevents.com/hybrid-event-services/
—————————
If you like our podcast, please show us some love by subscribing to this podcast on your favorite listening platform and following us on Instagram. By leaving a great review and hitting the 5 stars, you make this Podcast visible to other listeners with the same interests as you. Until next time!
—
Send in a voice message: https://anchor.fm/eventsdemystified/message