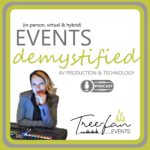 On today's episode of "Events: demystified" I have the honor of hosting not one, but TWO featured guests, good friends of mine, event professionals, live-streamers and podcast hosts and discuss what "Community Over Competition" means, how does it actually play out in events, and why the success of an event depends highly on working with the right event professionals. "Community over Competition" is a topic very near'n'dear to my heart and the fact that I get to discuss it with Mary Davidson of EP Events LLC and Logan Clements of Logan Strategy Group, both of them the hosts of Better Events Podcast, well that is a major treat!
We will be live-streaming an extended pre-recorded video version of this episode on on LinkedIn, Facebook, and Youtube. Subscribe to these channels to receive a reminder every time we go LIVE with any of our Podcast episodes.
PS: Check out this episode where Anca got featured on the Better Events Podcast.
"Events: demystified" Podcast is brought to you by Tree-Fan Events and your host is Anca Trifan.
—————————
You can learn more about Mary here: https://epevents.org/
You can learn more about Logan here: https://www.loganstrategygroup.com/
Also, on social @epeventsllc @loganstrategygroup_events @bettereventspod
—————————
For event and podcast updates, tips, and tricks of the trades, follow us on these social channels:
Instagram: https://www.instagram.com/eventsdemystifiedpodcast
Patreon: https://www.patreon.com/eventsdemystified
Podcast Website: https://eventsdemystified.com
—————————
Tree-Fan Events offers Hybrid Event Production Services: https://treefanevents.com/hybrid-event-services/
—————————
If you like our podcast, please show us some love by subscribing to this podcast on your favorite listening platform and following us on Instagram. By leaving a great review and hitting the 5 stars, you make this Podcast visible to other listeners with the same interests as you. Until next time!
—
Send in a voice message: https://anchor.fm/eventsdemystified/message