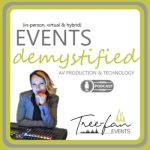 With me on the "Events: demystified" Podcast, I have Carey Smolensky, a Husband, Father, "Papa C" to his grandchildren, Dynamic Businessman, Event Producer, Multi-Faceted Entertainer, Author, Recording Artist, and Entrepreneur.
Author of Living Life with Passion and Helping Others, Carey has turned his book into an annual experience; The Passion Summit, as the next logical step in sharing the ability to live life passionately while helping others, and during this episode, we'll be talking about how you can live with passion personally and professionally especially in a current world of events.
In Carey's own words: "Believe in yourself and know that you have what it takes. Keep moving towards your goals and never look back. Keep persevering and look for the right opportunities in life because if you don't, they will not find you."
Download your free Blueprint for Finding Your Passion (chapter 3 of Carey's book): https://www.thepassionsummit.com/blueprint
"Events: demystified" Podcast is brought to you by Tree-Fan Events and your ah-mazing host is Anca Trifan.
—————————
You can learn more about Carey here:
https://www.careysmolensky.com
Also, on social @careysmolensky
The Passion Summit: https://www.ThePassionSummit.com/
—————————
For event and podcast updates, tips, and tricks of the trades, follow us on these social channels:
Instagram: https://www.instagram.com/eventsdemystifiedpodcast
Podcast Website: https://eventsdemystified.com
Become a Patron on Patreon: https://www.patreon.com/eventsdemystified
—————————
Tree-Fan Events offers Hybrid Event Production Services: https://treefanevents.com/hybrid-event-services/
—————————
If you like our podcast, please show us some love by subscribing to this podcast on your favorite listening platform and following us on Instagram. By leaving a great review and hitting the 5 stars, you make this Podcast visible to other listeners with the same interests as you. Until next time!
—
Send in a voice message: https://anchor.fm/eventsdemystified/message