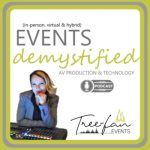 In today's episode, I have the pleasure of hosting Miguel Neves, EventMB's Editor-in-Chief who likes to describe himself as a "curious creator and caring curator of computerized content and a conscious connector of charismatic characters'. Miguel lives and breathes the event tech sector and is deeply engaged in the global online community of event professionals. He is a Portuguese soul who built a career in the UK and is now raising a young family in southern Denmark.
Tune into today's episode as Miguel and I will be discussing and
demystifying the future of events as he sees it,
the importance of A/B comparison testing in order to produce and host successful events,
what a proper hybrid event should and could look like,
content planning for the full event cycle as well as,
the approval process that goes into generating meaningful content that informs, involves and entertains, and much more.
"Events: demystified" Podcast is brought to you by Tree-Fan Events and your ah-mazing host is Anca Trifan.
—————————
You can find Miguel here: https://www.linkedin.com/in/miguelseve
Also, on social @miguelseven
—————————
For event and podcast updates, tips, and tricks of the trades, follow us on these social channels:
Instagram: https://www.instagram.com/eventsdemystifiedpodcast
Become a Patron on Patreon: https://www.patreon.com/eventsdemystified
—————————
Tree-Fan Events offers Hybrid Event Production Services: https://treefanevents.com/hybrid-event-services/
—————————
If you like our podcast, please show us some love by subscribing to this podcast on your favorite listening platform and following us on Instagram. By leaving a great review and hitting the 5 stars, you make this Podcast visible to other listeners with the same interests as you. Until next time!
—
Send in a voice message: https://anchor.fm/eventsdemystified/message