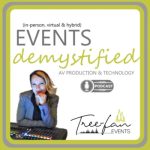 In today's episode, you get the chance to meet Ike Singh Kehal of Social27, who's passionate about Virtual Events that Make an Impact, and bringing the best part of in-person events to the virtual world for a greater reach, accessibility, flexibility, and insights than ever before. Ike is a fascinating entrepreneur that applies the lens of business to some of the most important decisions that need to be made around an event's format, especially during a time when we've been challenged the most to re-imagine what in-person, virtual and hybrid events look like in 2021 and beyond. Tune in to today's episode to learn more about Ike, who started his professional career at Microsoft where he focused on partner programs and marketing. He went on to co-found and run four successful organizations, eventually starting Social27, a virtual event platform that has been helping businesses connect digitally throughout the pandemic and beyond, thanks to its innovative virtual and hybrid event platform.
"Events: demystified" Podcast is brought to you by Tree-Fan Events and your amazing host is Anca Trifan.
—————————
You can find Ike here: https://www.linkedin.com/in/ikekehal/
—————————
For event and podcast updates, tips, and tricks of the trades, follow us on these social channels:
Instagram: https://www.instagram.com/eventsdemystifiedpodcast
Become a Patron on Patreon: https://www.patreon.com/eventsdemystified
—————————
Tree-Fan Events offers Hybrid Event Production Services: https://treefanevents.com/hybrid-event-services/
—————————
If you like our podcast, please show us some love by subscribing to this podcast on your favorite listening platform and following us on Instagram. By leaving a great review and hitting the 5 stars, you make this Podcast visible to other listeners with the same interests as you. Until next time!
—
Send in a voice message: https://anchor.fm/eventsdemystified/message