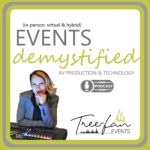 The ever-growing concern about the environment and climate change has accelerated the demand for conscious consumerism and sustainable initiatives. However, for event professionals, creating green events can be quite a challenge at times. You want to offer a rich, personalized attendee experience while ensuring the event also meets your sustainability targets – a tough balance! And so today, I have invited an internationally recognized trailblazer in the sustainable event field, Nancy J. Zavada, CMP – Founder and President of MeetGreen to discuss best practices and guidelines on planning and producing post-pandemic sustainable events.
"Events: demystified" Podcast is brought to you by Tree-Fan Events and your amazing host is Anca Trifan.
Make sure to out the MeetGreen calculator for bench-marking the sustainable elements of your events.
—————————
You can find Nancy on LinkedIn here: https://www.linkedin.com/in/nancy-j-zavada-328659/
Twitter: @nancyjzavada
—————————
For event and podcast updates, tips, and tricks of the trades, follow us on these social channels:
Instagram: https://www.instagram.com/eventsdemystifiedpodcast
Become a Patron on Patreon: https://www.patreon.com/eventsdemystified
—————————
Tree-Fan Events offers Hybrid Event Production Services: https://treefanevents.com/hybrid-event-services/
—————————
If you like our podcast, please show us some love by subscribing to this podcast on your favorite listening platform and following us on Instagram. By leaving a great review and hitting the 5 stars, you make this Podcast visible to other listeners with the same interests as you. Until next time!
—
Send in a voice message: https://anchor.fm/eventsdemystified/message