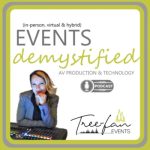 First off, Happy New Year (crossing fingers it's still "happy"). Secondly, welcome to our FOURTH Season, how awesome is that!
Since I decided to do something new and get off the hamster wheel where every podcast in this space is sharing what they hope the 2022 trends might be for the industry, I will just share my heart and what my hope is for this new Podcast season and brand new year. If you can take a bit of raw sharing with a small side of rambling, I will take you on a journey of what 2022 might look like for you, our loyal audience!
And since I'm not a grinch (not that I know of), here's a link to 2022 Event Trends for your reading's enjoyment.
"Events: demystified" Podcast is brought to you by Tree-Fan Events and your Podcast Host is Anca Trifan.
—————————
You can find connect with me on here, as well as on LinkedIn and on social @treefan_events.
—————————
For event and podcast updates, tips, and tricks of the trades, find the podcast at these links:
Website: https://eventsdemystified.com/
Email me: 20*******@tr***********.com" rel="noreferrer noopener" target="_blank">podcast at treefanevents.com
Instagram: https://www.instagram.com/eventsdemystifiedpodcast
—————————
Tree-Fan Events offers Hybrid Event Production Services: https://treefanevents.com/hybrid-event-services/
—————————
If you like our podcast, please show us some love by subscribing to this podcast on your favorite listening platform and following us on Instagram. By leaving a great review and hitting the 5 stars, you make this Podcast visible to other listeners with the same interests as you. Until next time!
—
Send in a voice message: https://anchor.fm/eventsdemystified/message