You've probably seen the new meme circulating around the internet with 2022 spelled as the year 2020 and two like it's the sequel to 2020. We're embarking on the 3rd year of this pandemic and while we've made some great progress and event professionals have proved their ingenuity and resilience over the past two years, there's still a lot of unknown and frustration to be dealt with.
The future trajectory of in-person events is unknown, and it is likelier than not that no single answer will emerge. Local conditions, regulations, stakeholder preferences and comfort levels will all come into play.  Volatility remains a potent factor, prompting organizations to implement an array of contingency plans — although many appear to be under-prepared. As such, while the events industry redefines the idea of "normal," planners are seeking tools that facilitate flexibility, nimbleness, and scalability.
1. Virtual Events Still Prevail, for now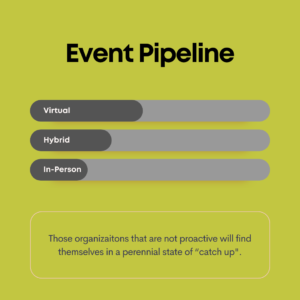 The upheaval of the past two years have left all organizations with the realization that they need to change how they think about events, but many are still  tentative—waiting for a resumption of the "old normal" or talking about a "new normal," but without putting in the work and investing the resources into developing a strategy for meeting these challenges. This is not the time for organizations to be reactionary. Those that are not proactive will find themselves in a perennial state of  "catch up", especially as right now the conversation is focused on Omicron, but it's just an
example of what we're going to continue to see over the next few years. As long as this virus keeps circulating, we will see new variants repeatedly pop up in the community.
According to a recent survey run by EventMB, on average, virtual events represented almost half (47 percent) of the respondent's portfolio, with hybrid events representing just over a third (34 percent). In-person events represented just under a quarter; still, an encouraging number for the industry given that we are not out of the pandemic yet, and that this ratio will vary across geographic regions and depending on the size and scope of events.
2. Keep Hybrid Simple, for now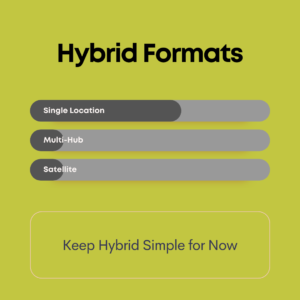 The majority of the hybrid events in each respondent's pipeline involve a single location (63 percent). The concept of using more than one location is not being embraced, perhaps due to the extra complexity and potential cost. Both hybrid events with multiple equal locations and hybrid events with a primary site with smaller satellite locations accounted for only 14 percent of hybrid events in the pipeline of our respondents.
3. Technical Event Planners and Providers are your go-to Guides Now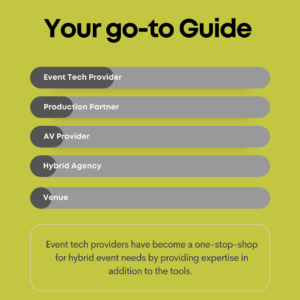 Event tech providers are now the first place event professionals seek guidance when planning hybrid events. About 35 percent of respondents selected event tech providers, with production partners the second most popular at 18 percent. These results suggest that event tech providers have become a one-stop-shop for hybrid event needs by providing expertise in addition to the tools.
In many cases, they also provide a team to support the production of hybrid events. It would appear that planners are embracing this approach.
4. Simultaneous Experiences are still Hot but Asynchronous event experiences are the Future
Asynchronous event experiences are in their embryonic stage, but they are the future.
For most respondents (73 percent), the concept of a hybrid event means that the in-person and the online experience happens simultaneously.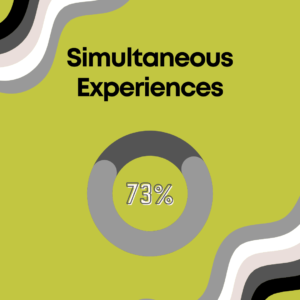 However, with the potential complexity and the resources needed to adequately service both sets of audiences, there are advantages to separating the timeline of the experiences; 27 percent of our respondents are at least considering this option.
Pre-recorded content makes it easier to broadcast multiple times, and event organizers benefit from maximum reach. It also means more — and better — data. If it is asynchronous and personalized, the data will come in the segment by segment, region by region. In order to make it happen, what's core is creating events that enable community, real-time feedback, and analytics so that we can develop an optimized, asynchronous experience.
5. Contingency Planning is a Good Start but Not Enough

A survey commissioned by Biz Bash in collaboration with Touchpoint has found that 16% of respondents said their employer has invested funds to incorporate virtual programming into all live events, while 37% of respondents said they plan to allocate funds to develop or scale-up existing virtual offerings but have not yet done so. And nearly one in 10—9%—report that they have NO contingency plans should it become impractical or impossible for their organization to hold one or more in-person events over the next two years.
Making contingency plans is a good start. By itself, however, it is not enough. Organizations need to commit by devoting the appropriate budgetary and staffing resources to lay the groundwork for those contingencies. Without this preparation, implementation and execution will be stymied. Money, time, and opportunity will be lost.
6. AI that delivers ROI
Prior to the pandemic, we got away with saying that we were using artificial intelligence, but really we were all using sophisticated algorithms. What virtual environments brought to the table is tracking and data like we've never had before. There is a clear distinction between what an algorithm is and what AI and machine learning are.
According to Joe Schwinger, founder and CEO at MeetingPlay, with an algorithm, attendees might fill out a questionnaire and then be presented with the results that they've been matched to. The results don't change over time. Machine learning might start by recommending 10 sessions, but the system is actually learning from what you click on and what you don't click on — and the duration you stay within each session. This applies to networking recommendations as well. Machine learning creates personas that are never cemented in concrete. They are constantly evolving and the platform has to look for positive and negative reinforcement.
That's where we have to fast forward in the industry, especially with the explosion of content. It used to be that when attendees went to an on-property event, they could consume 20 sessions at most over a four-day period. Now we have events with 500 sessions. The algorithmic approach to recommendations is no longer appropriate. We need to be smarter with the way that we custom tailor the experience, and that's what machine learning does.  Machine learning shouldn't just apply to tracks on sessions, but also job title,  discipline, and interests. And it should work across the whole spectrum of platform experiences. For example, when attendees click on a networking activity on our platform, it will bring them into a room with their matching personas.
7. The rise of the event tech stack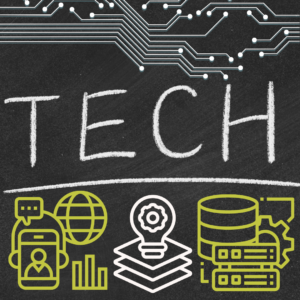 An event tech stack is several pieces of technology and products that you put together to create a digital event experience. This stack can include a series of tools, from registration, event marketing, and follow-up survey tools.
One of the things promised by many event tech vendors is an all-in-one platform. But in reality, people already have a clear idea of how they want to use technology to create an experience. So, while an all-in-one platform sounds good on paper, customers and planners have figured out that that is not the way they want to go — they don't want the whole suite.
Instead, planners are now taking this "best of breed" event tech stack approach. They use different technologies for registration, email marketing, live event engagement, on-demand content and content hubs, and other technology for community engagement.
According to Pierre Metrailler, CEO at Spotme, one of the reasons this trend will be significant in 2022 is that people want to create unique and personalized experiences that are targeted and relevant to their specific audience. To deliver great experiences, you've got to use the best tool for each element of an event. And to personalize an event, you've got to orchestrate those different pieces of technology. At the same time, the personification has to take place across the whole tech stack — this picking, choosing, and bringing together the "best of breed" tech is what creates a great experience
People no longer tolerate mediocre events or technology. The level of maturity, understanding, and education of customers is huge and still increasing — which is great because it means we are becoming more professional and delivering better experiences. However, you will have a chasm where some planners don't feel as comfortable with tech as others.
8. The On-Demand Content is Now King
Content brings the right people together and becomes a tool for driving engagement. Attendees are keen to consume content on-demand and then engage with speakers about the content via Q&A, live chats, and community-driven micro-events.
Consistent content creation generates engagement because people want to consume content they are interested in. The content delivery is now spread out, which is relevant because the event is designed to have an online platform for continued engagement. As the program ends for the day, attendees can watch the next set of on-demand content and prepare for the next session according to their schedule.
There's a natural trend to keep capturing and publishing recorded sessions because on-demand content will continue to engage viewers. Once you have invested in the event, the on-demand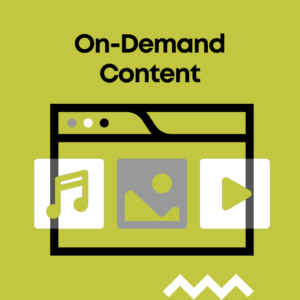 content generates continuous engagement and more return on your investment.
Alternatively, content can be produced away from events, with viewers encouraged to engage with the content in their own time. Events can then take the shape of deep-dive micro-events spread out throughout the year.
According to Jelmer Van Ast, CEO at Conference Compass, there is a perception that now event professionals also have to be content creators, which can be intimidating. However, with this challenge comes the opportunity of being part of a bigger solution for associations and other clients — and of course, event tech is here to help.
Event tech can support the creation, recording, storage and publishing of content in a streamlined way. Event tech can add tremendous value by helping to support the engagement of online communities through on-demand content.
9. Moving towards the Metaverse
There are many views on what the metaverse is and what it will be, but most revolve around one of two concepts. The first concept is a virtual reality-based artificial universe where you can use a headset to do almost anything you want in an immersive digital way. There is also a concept of web 3.0 where the metaverse is the future of the internet, a sort of everything-verse that we will transition to from the current internet as we know it.
Currently, video games are the closest thing we have to the metaverse right now. Just because they are games does not mean we should not take them and the technology that powers them seriously. Massive companies like Facebook, and Apple, are investing heavily in the metaverse, and more will follow.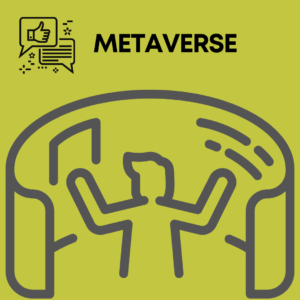 Facebook, now Meta, is just the most visible, and by changing its name, it has made quite a statement. Apple is also investing a huge amount of resources in the metaverse but it is working behind the scenes on the technologies that it hopes will power the metaverse.
The potential impact on the event industry may not be much initially. Early adopters will experiment and some will figure it out. Hosting events in the metaverse is really about deciding that an immersive online experience is a right venue for a specific event, and it won't be for all events. Still, had the Covid pandemic not happened a lot less event professionals would be considering hosting events in the metaverse.
According to Brandt Krueger, owner of ETC, there is no doubt the pandemic has accelerated both the development of the metaverse and the event industry's interest in it. As our focus on the metaverse increases, event professionals should not dismiss it. It's not just a cute use of technology. There will be a time and place for this kind of technology in many event strategies, so having an
opportunity to experiment with it is key. There is no rush, no immediate need to pivot to the metaverse but we should also not miss opportunities to explore and learn from our own experiences on the metaverse.
10. Engagement Driven by Data
Regardless of event format, engagement is the metric that can predict the outcome of an event, yet engagement has been a pain point with planners. Engaged speakers, attendees and sponsors equal success. Platforms like Hopin have given planners more touchpoints to measure engagement than ever before. As we continue to develop insights across virtual, hybrid and in-person events, the better engagement will be. Ultimately, insights-driven decisions lead to more successful programs.
According to Julius Solaris, VP of Marketing Strategy at Hopin, insights-driven experiences are a massive shift for the event industry.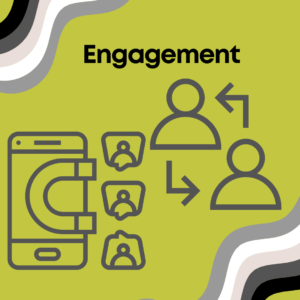 Transitioning events to data-rich environments and embracing a hybrid event strategy could revolutionize the playbook of planning events. What if we had data to support better venue, content and sponsorship decisions? All stakeholders would enjoy the benefits of an insights-driven approach. For example, we believe entertainment/speaker selection is linked to more engaging events. But what if we planners could know precisely what content resonated the most or what activations led to better networking? Now we can know for sure.
Event creators have more opportunities than ever to drive engagement through shared experiences. The adoption of virtual events opened the doors for planners to dig deeper into their decisions' impact on each event experience. We'll see data-savvy event planners thrive in 2022 by utilizing insights to clearly identify the event type and the best programming options for optimal engagement. As technology continues to innovate, particularly for hybrid and in-person events, insights will be the main ingredient for successfully engaging an audience in 2022, regardless of your event type.
In conclusion, everything changed in March 2020. All around the world, we went from a mostly physical office work setup to a full remote one and now many businesses continue to operate fully remote, or are at least are looking to have the capability of doing so when required. This has a tremendous impact on how we work as individuals, teams and whole enterprises.
The biggest challenges are collaboration, communication and maintaining healthy company culture. The biggest challenges are collaboration, communication and maintaining healthy company culture.
With the added challenge of remote workforces that may be spread over multiple time zones, there is a greater need for asynchronous communication. Technology helps but it is just a tool. The most important aspect is the design of the internal communication and the design of meetings, the latter is something that many event professionals already excel at. While they may need to adapt their skills for the demand of this new workforce, taking a virtual-first approach to meeting design and focusing on collaboration overconsumption of information is a great start.
Sources:
2022 Event Trends by EventMB, get your report here, and Hybrid Event Evolution in 2021
Can we help make a decision about your event in 2022? Let's talk for 20 min and find out what your event might need.