From the first Discovery Call through the post-event thank you note, a Tree-Fan Events Technical Event Planner and Producer leading a highly-qualified AV event production team becomes your partner in bringing the event vision to life. Working with a highly skilled and experienced Technical Event Planner and Producer will not only produce a compelling, polished event but also alleviate stress and concerns along the way, while helping innovate how content is presented to attendees to keep them engaged through quality broadcast techniques.
Here are a few things a Technical Event Planner can do for you:
 Provide Pre-Production Technical Planning & Strategy
The process typically centers around a primary point of contact for both the client and the production team (at Tree-Fan Events, we call this person the Technical Event Planner/Producer), because you need a one-point-contact that understands the production process, they're used to working with and leading production teams, and have spent a great deal of time onsite at events … and now they use their talent making sure every technical detail and requirement is met, the ROS complete and the right AV production team has been assigned/booked to execute the event.
Much too often, there's a major disconnect between the pre-production planning stage of an event and the execution of it. Event planners are often passed between many hands in the planning process, from the sales staff, production managers, project managers, and the technicians themselves, there are a lot of gaps for information to fall, and many times the day of the event it's too late to realize that a better or different solution could have been made available if there had been different viewpoints in the room during pre-production. This collaborative process is critical to creating a truly engaging event.
That's why working with a good technical event planner/producer is key – an event technologist should be with you from start to finish for any event, get engaged early in the process, and stay connected from the initial proposal or estimate to the final invoice. This implementation process (listening, planning, execution) is not just to help support and solve technical issues as they arise, but to offer creative and engaging options during the planning process and during the execution process as well.
Lead the Onsite AV Production Team and Direct the Production
The onsite production team is centered around the Technical Event Producer aka Project Manager, this person could very much be one and the same with the Technical Event Planner, and serves as the client liaison and communicates with the onsite crew, ensuring leadership and clear communication.
Other onsite roles are determined by the needs of the event, and for a hybrid event, it often includes:  Audio and Video Engineers, Lighting Director & Operator, Streaming Engineers, Video Playback Operator, Graphics Operator, Recording Engineers, LED Engineers, Camera Operators, Stage Manages, Teleprompter Production Assistants, Rigging Engineers, and a Master Electrician.
Hire highly-qualified Techs and Freelancers
For many of the above-mentioned positions, Technical Event Producer will hire wor work in close cooperation with the AV production partner to hire highly-qualified freelancers.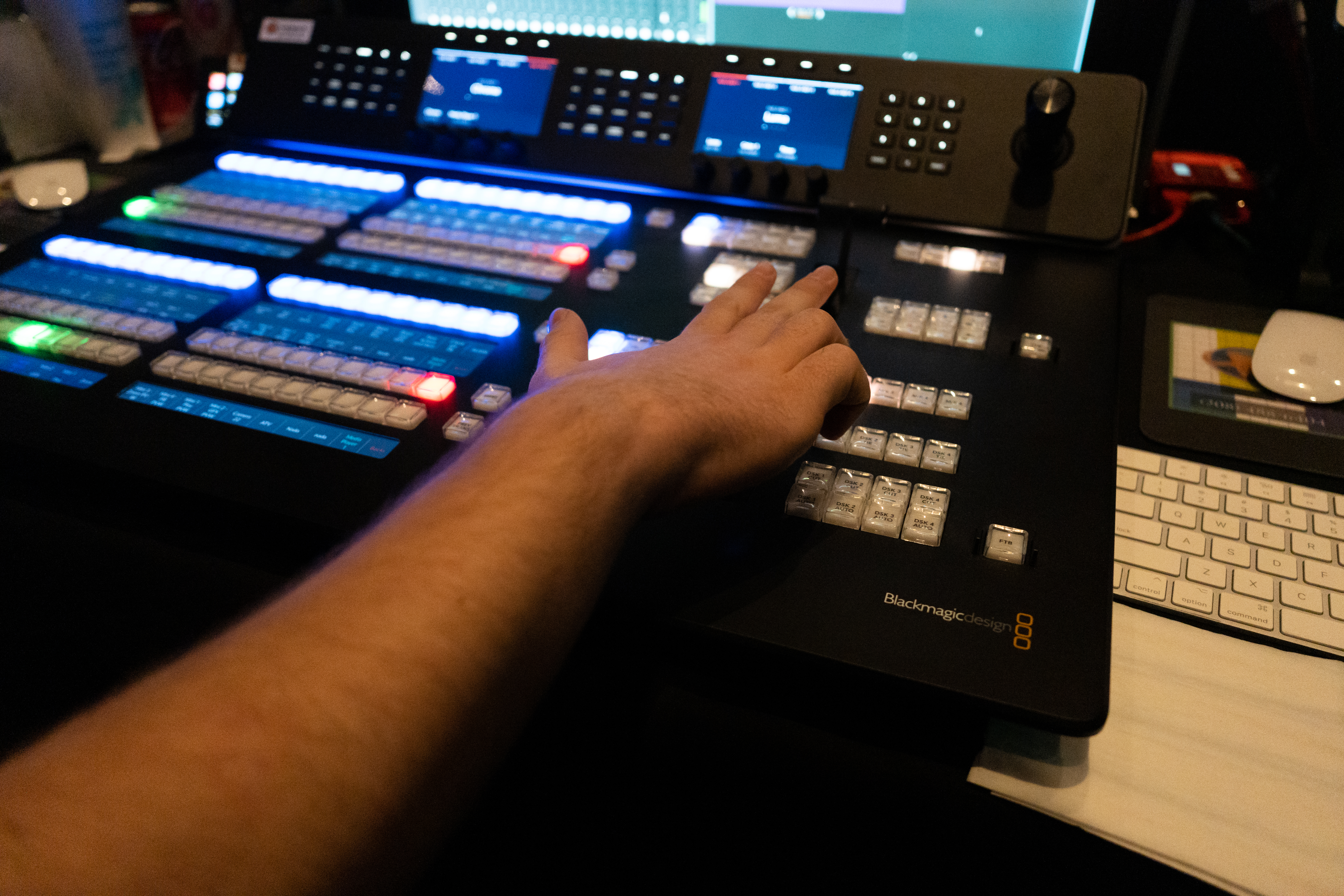 These technicians and engineers may have general knowledge in many areas of the live event industry and be capable of performing multiple roles, while some could be highly trained specialists who are experts in the position they were hired for.
These technicians are vital to the success of most events. Having a specialized crew means that each component of the show is being handled by an experienced professional who is dedicated to the event's success.
For those who don't regularly work with technicians and specialists, it may be hard to differentiate between those that are highly skilled and those who know the right things to say.  Partnering with Tree-Fan Events can save you from working with unqualified onsite labor.
A highly skilled production team led by an experienced Technical Event Producer is important from the pre-production process until the show's strike is complete, and will reduce stress throughout the entire event production process.
We have technical design experience and a disciplined process in place that allows us to easily scale events and shift from in-person to virtual without angst. There isn't much that's beyond our scope and we love the intensity of putting on events!
If you're a planner working on an upcoming event, seeking help with virtual event technology, or simply want to learn more … we can help!