I am writing this post with the hope that you take these suggestions seriously, only because you care about your attendees, as much as I, the author of this post care about you, the reader, stopping from your busy doing to read/skim over this post.
So let's get straight to it.
Recently I attended the largest hybrid summit since the pandemic, over ten thousand very nerdy attendees gathered in a large venue in San Francisco with several thousand attending virtually, consuming the live sessions from the comfort of their homes.
Here are some tips and suggestions on what could have worked better, for both the virtual and the in-person audience.
One thing to note here,
the main audience person for this summit was, for the most part, the introverted (crass generalization here), data-driven scientists that care more about long lines of code than event platform bells and whistles, such as networking opportunities and one-on-one meetings with strangers.
For your virtual audience:
Stop glorifying the event platform as the most important thing, when most attendees, all they care about is stable technology to get them a view into the room with a high-resolution presentation on their screens. Do allow Q&A on your platform of choice, even if the online chat is disabled. Have someone manage the Q&A live, if the function is enabled so that the in-person presenters get the opportunity to answer the online questions.
Don't overlook the importance of title slides for your stream, even if the streaming of the many breakout sessions will have as little production assigned to it as technically possible, for logistical, labor-related, and cost-related considerations. At a minimum, have a clean logo slide in between each session, a slide that says "We will start momentarily" or "We will be right back" or "Go grab a coffee during this break" with royalty-free music playing in the background, before and after sessions which by default provides a sound-check for the audience at home so you don't get a ton of messages that they can't hear anything on the stream, especially before you even started.
Ask your presenters, in advance, to provide a sharable option of their slides, give the online audience the ability to download the slides or follow along on a slide-share platform, especially if the slides include small line of text or code that is hard to read unless you zoom in past 100%.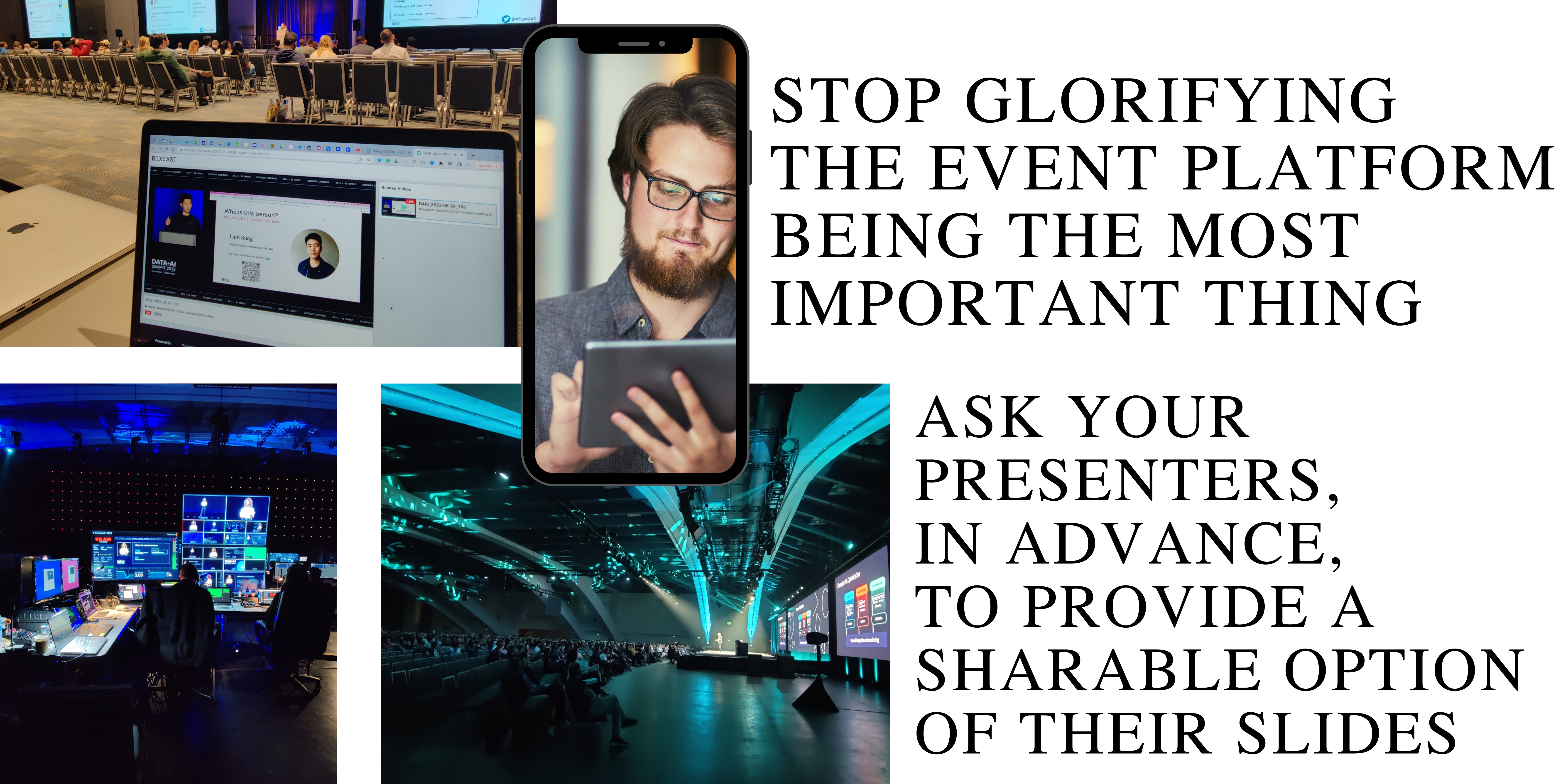 Sessions in general, online or in-person should not be longer than 25-30 min long. Even the most engaging presentations will prove boring past that time frame as the general attention span of the average person is only getting shorter by the day. Thanks social media and Netflix.
Don't charge for on-demand sessions, but do require registration to capture the information of those interested and upscale them on other options and opportunities such as one-on-one short sessions with the presenters, or keynote speakers, or small Q&A sessions, etc, but make information and especially training easily available to anyone in your niche. Nobody likes a grinch.
Gamify the survey process and make it as short and concise as possible, IF you care about receiving feedback.  Make it mobile-friendly, funny if possible, sprinkle a few multiple-choice questions in between the "Yes/No" questions, and limit open-ended questions to a maximum two for anyone wanting to score brownie points for writing an entire report.
For your in-person audience:
Provide signage at all crossroads, within a one-mile radius of the convention/venue your event takes place, especially in busy large cities with the majority of your attendees traveling from out of town.
Provide more registration terminals than you think needed with the option to pre-register and receive the badge with a QR code beforehand to make the check-in and registration process as smooth and fast as possible. Reward the pre-registrants with swag or a happy hour token drink for the opening reception. Have social distancing stickers available for your attendees to stick to their badges, based on their comfort level.
Have a soft kick-off session in the morning on day one, as during the morning rush, most attendees underestimate the time they need to get through the check-in process and make it in time to catch the opening keynote. Have a live DJ pump high-energy music to energize everyone before the opening keynote, and in between sessions.
Provide coffee service from the moment the first attendee walks into the venue until they leave. Coffee drinkers like myself hydrate with coffee, not water. Double up on the coffee/tea stations the moment more than 3 people waiting in line. Nobody likes long coffee lines. Not even when the outcome is a hot steamy with cold foam expresso, let alone an overly watered brewed coffee that becomes more of a necessity than a luxury.
Provide quiet spaces for those ambiverts, omniverts, and introverts that need to hide away from people and noise throughout the day in order to make it till the end of your event. Do provide charge stations, but don't overdo it with monitor screens playing back the live session or the on-demand sessions. If the purpose for the quiet space is to break away from the noise and the conference, the screens don't help. We, introverts, hide for a reason.

Provide each breakout room with AV-tested laptops with the most updated version of the presentation uploaded on the laptop in each room, prior to the start of each day, but do give the presenters the option to plug in their own laptops, with the caveat that doing so will take 5 min away from their total presentation time because inadvertently, the 5 min in between sessions won't be sufficient when a presenter-provided laptop is involved. Trust me on this one. The time math never fails. Provide speakers with speaker timers to keep them on time. 25-30 min long sessions with 5-10min long breaks in between sessions is now the standard, with smaller sessions becoming more and more the norm.
Don't freeze your audience, pumping artic air into an already cold ballroom. If you do, at least remind your attendees to bring their parkas.
Don't cramp so many sessions and content in one day, be selective. After lunch, everyone's brain functions at half its capacity. If you don't serve lunch, allow enough time for a walkaway lunch, especially in a busy city, with thousands of attendees all hitting the same spots in a 1-2 mi radius.
Provide protein-heavy options along with carb-loaded options. Most of the time, high-protein snacks are nowhere to be found, carb-loaded sugary snacks is all that is served, no wonder everyone's ready for a nap in the afternoon.
Learn and play are very important for creative minds, and everyone else alike. Have gamification areas throughout the space. Do provide free Wifi, appropriate to your audience size bandwidth, throughout the event space.
Let's chat, we'd love to assit your event to make it the best event you've ever produced.  Below, I've got a limited number of spots left for some ???-??-??? ??????? 60 ??? ??????? ??? ?????? ????? ????????????? tailored for your event, may that be a meeting, a conference, or a fundraising gala.