Before we get into some of the top hybrid event myths, let's start with defining this concept that's been defined and re-defined dozens of times over the last few years.
The idea of "hybrid events" has been around for a long time, practically since live-streaming technology was first introduced. By definition, hybrid events are called a mixture of virtual and live elements. 
Two hybrid event definitions
In my opinion, there's the hybrid event fantastical definition in which every in-person event has an alternative in the digital realm, on some enterprise event platform that's been well vetted and thought out, the timelines of the two different events are different but interest at key moments during the event, the digital sessions presented live or as pre-records, are very short to accommodate for the ever decreasing attention span, the networking opportunities provided both in-person and virtual are intertwined with amazing activations and experiences for ALL attendees, a true

balancing and integration act of treating your virtual audience equally to your in-person attendees, connecting them with each other, engaging them in equal measure,  entertaining and catering to the needs of in-person and virtual audiences at the same time, creating a memorable event experience on both sides of the camera,

 there are maybe event a metaverse element embedded in the design of the event, all the elements that we came to agree that would make an in-person and virtual event amazing and captivating to ALL attendees.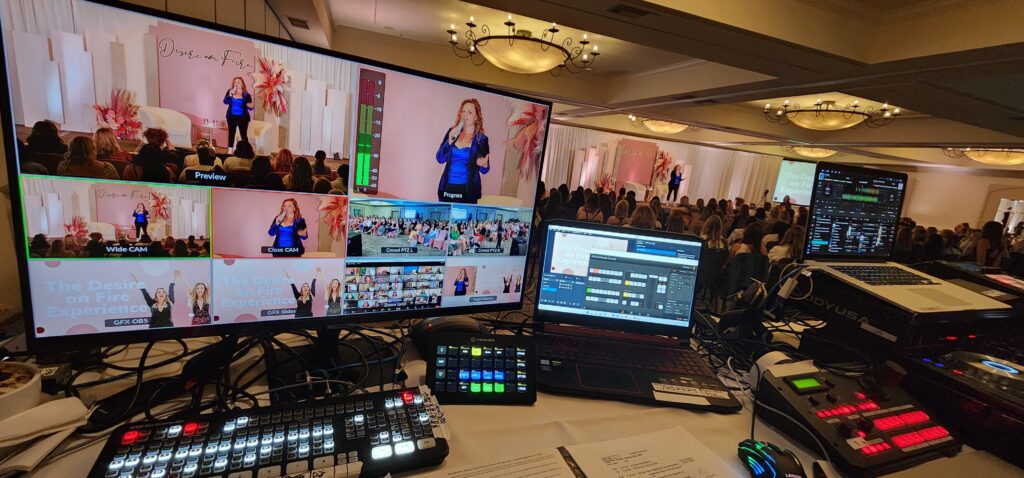 2. And then, there is the real-life, boots-on-the-ground definition, where budgets exist, where shortage in qualified labor is a real thing, and where past ROI directly linked to a properly balanced and integrated virtual component to the in-person event has not been as high as everyone predicted or hoped for, and so I even though it very much goes against the current and I am here to say, a "hybrid event" in many real-life cases is just an in-person event with a live stream. The majority of hybrid events out there are more than happy to include a streaming component or recording of the event for later on-demand consumption. For the majority of hybrid events I've experienced, both educational and corporate in nature, that's the current reality, with the event platform many times functioning just as the gatekeeper of exclusive content, a convenient place to post the agenda and save a few trees in the process,  a suitable way for the remote audience to engage with the presenters live via Q&A, polling, networking is very much limited to who's on the platform or have access to exclusive content.
And while this definition might feel like it's taking away from the fantastical hybrid event version that we all want to partake in, elements such as real-time two-way communication with your virtual audience, chat rooms, or exclusive virtual one-on-one experiences with speakers can be great ways to help your virtual guests feel like they're in the room. The one hybrid event that span over two full days that we've worked on recently, had a larger audience that joined virtually than the in-person audience and throughout the two-day event, we have not lost one virtual attendee that felt disengaged or not connected with the content, the speakers and the other audience members. 
Now, all that being said, there are many good reasons why including that virtual component in your in-person event will benefit you and your event.
Whatever event you're planning, you're either putting up walls or doors! Audiences turn away from walls and walk towards doors. Don't turn people away from your event. A virtual component to ANY event is a door to your in-person event.
The other thing to think about is,  no matter how thoughtfully has been scheduled, will always compete with other events that are happening at the same time locally, nationally, or globally.
Even in today's day and age, there's still financial gain to be had from a virtual event, just because it's virtual doesn't mean it should be free.
And yes, increased accessibility and flexibility for attendees should be at the top of your planning strategy. It's time to stop excluding people who can't physically make it to events but have a big desire to be a part of them.
And last reason to consider is creating connections around the globe, and gaining a new audience without borders which is not a concept made up by event professionals that try to "sell you" on this idea.
This year is the year for AI in some of its simplest applications such as content and visuals. This is going to change the aesthetics of the virtual events we've gotten accustomed to in ways that no one has ever really seen before.
Three top hybrid event myths
Here's the truth, great hybrid events are no easy feat to execute. You could certainly boot-strap a hybrid event by recording your keynote and speakers and then make the footage available on-demand, but we all know that producing an in-person event already carries many challenges and it requires careful planning and professional execution. The same is true of a well-planned and executed hybrid event, and with that tiny disclaimer in place, let's dive into a few top myths out there that we must demystify.
Myth 1: Hybrid Events have to be planned and executed by the same AV vendor/production partner.
 One misconception I hear about all the time is that you must use the same AV partner for all production aspects of the hybrid event. That's a myth. That's what an AV vendor would like you to believe because they want the whole pie, they don't want to share the potential revenue gained from your event with anyone else. That's the definition of a scarcity mindset.
Yet, there are plenty of examples I can give you from my twenty years of professional event experience in which we've partnered with one production house to execute an extraordinary general session, and with the in-house vendor to execute the break-out sessions, and maybe yet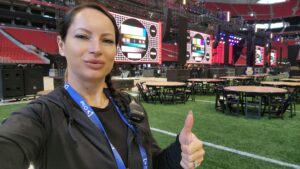 another broadcasting vendor to stream the content. Especially for larger events, the general session will always require several AV vendors to work together, collaborate, and partner in order to produce the vision for that event, and this is a very normal practice in production planning, to hire specialized vendors to provide staging, rigging, lighting, sound, video recording, streaming, etc. As an event planner, you might not want to work with multiple vendors or worry about all these logistics, which is why you're working with an experienced event production agency that is fully capable and comfortable handling all logistical details of your event, and taking care of the contract negotiations, communication and scheduling that need to happen between all the parties involved.
I think a lot of event planners are so used to shopping wholesale when it comes to their event production vendors, thinking that's going to give them the better bottom line, and in the process, they run into the potential of unknowingly boycotting their events by expecting one vendor to do it all when it's perfectly acceptable for co-opetition to exist in between several vendors.  Co-opetiton is a beautiful thing,  it's an abundance mindset that combines competition and cooperation, two competitors may have complementary strengths, and while engaging in a coopetition agreement for the benefit of the event they cooperate and share in the common goals and gains of that event. As a vendor, the key to engaging in coopetition with another vendor is finding a way to partner with your competitor in such a way that both parties can substantially benefit from their shared resources without stealing customers or damaging credibility. While easier said than done, once all vendors are working in sync, the biggest benefit to the event and to the client is supply chain streamlining. 
Myth 2: The virtual component will decrease in-person attendance. 
It's understandable to think that when given a choice between staying in the comfort of their home or traveling to an event, most people will choose the former. But the truth is, most attendees will not view a virtual offering as a replacement for attending in person. Your virtual event will only complement your in-person event, increasing your reach and facilitating networking. Hybrid events have multiple dimensions, such as time, audience, networking, content, and exhibitors, to take into consideration to help you understand how a virtual event ends up adding additional value to your in-person event and gives you more power to mold your event the way you want to.
As mentioned earlier, an added virtual experience can expand your reach and open it up to attendees around the world. You can leverage this opportunity to invite folks who have been interested in your events but were constrained geographically by in-person-only events. And the content you just got to record will provide you with a year-long supply of marketing opportunities, while the people that can't wait to relish the opportunity to join an event in person will choose that over the virtual element any day.
Myth 3:

Hybrid Events are expensive and difficult to plan and execute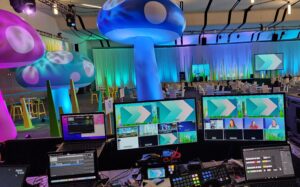 The first myth to demystify in this statement is somehow adding a virtual element to your event and the overall in-person AV and technology budgets are somehow correlated and locked in a linear fashion: for example, if an event spends $35K on AV for their in-person will have to spend an additional $21K to add a remote audience; and that an event that spends $100K on AV will have to spend $50K for that virtual component. The reality is, it doesn't work that way.
Just as an in-person event can take place in your in-law's barn for free, or in one of the most elegant and expensive ballrooms out there, costs can vary wildly depending on your venue, and your choice of an in-person venue depends greatly on your audience. Likewise, adding a virtual component to your in-person event can range from basically free to hundreds of thousands of dollars, depending on what you're trying to accomplish. If it's a simple live-streaming feed with basic feedback capabilities, it can be done on Zoom for next to nothing, and the experience could range from functional to extremely engaging as in the example provided earlier for the 2-day hybrid, with the right partners, strategy and creative design involved.
Hybrid events become easy to plan once you have an idea of how to organize them. Having a clear understanding of your objectives and your target audience will guide you in perfecting your hybrid event.

Let's take you real quick through the simple planning process of hybrid events. From the execution to the post-event analytics, a well-structured hybrid event strategy will just help you breeze through. Here are some planning tips for you.
Fine-tune the initial details; goals, KPIs, target audience, dates, budgets etc.
Define the target audience for both events.
Get in touch with a production event agency that is an expert at strategizing and guiding you through key vendor selection, contract negotiation, and content design, as well as flawless production execution for the in-person event and the streaming of the virtual component.
Outline the type of sessions you are hosting and confirm speakers' availability.
List down all the activities you want to schedule, which also reflect your event goals.
Use the free tool Event Mender provides to find the right virtual event platform for your event and get in touch with the technology provider to start designing your virtual space.
Get your checklist ready for branding and marketing across both types of events.
Leverage your speakers to market your event by providing them with appropriate custom-made assets.
Get your exhibitors on board, and see if they want to set up booths in person and online.
Trust your partner to provide you with a solid RUN OF SHOW based on the agenda you've created, and execute the hybrid event according to plan.
Collect event reports for the online event after the event is over.
Now this all may seem intimidating, but with the right hybrid event technical producer as your partner, you can take your hybrid event production skills to the next level.
---
If you're in need of a technical event producer and director that is a female that has worn all the hats in AV and events productions, and is in touch with each part of the production workflow, hit me up.