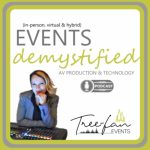 So, what does EQ-ing mean?
What's up with watts? What is a watt? What is an SPL and why is it all this important?
What is one rule of thumb when it comes to loudspeakers to audience ratio?
What is a time alignment processor and why do you need one?
What is the other one most important ingredient in the making of good sound for your events?
What's the one tip to get presenters and speakers to show up for sound check?