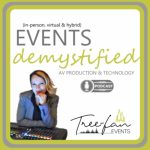 In the spirit of understanding each other better, let's start with the importance of good event sound in a venue for meetings and events, the equipment that you should have at a minimum and what are some of the common problems when it comes to sound. So here's a true fact that many of you might disagree with: Hearing someone speaking at an event is more important than seeing them. Think about it for a moment. If you're sitting in the audience at a sales meeting and there's a problem with the slides, it may not be ideal, but the speaker can still deliver his presentation and hopefully carry their point across. If you're attending a fundraising event and the benefit auctioneer can't be heard, not only would that be very frustrating but they literally can't do their job effectively and you just lost thousands of dollars in possible donations.  If the sound is garbled, not clear, distorted or not eq-ed properly bidders won't bid. As simple as that.
So, what does EQ-ing mean?
What's up with watts? What is a watt? What is an SPL and why is it all this important?
What is one rule of thumb when it comes to loudspeakers to audience ratio?
What is a time alignment processor and why do you need one?
What is the other one most important ingredient in the making of good sound for your events?
What's the one tip to get presenters and speakers to show up for sound check?
---
For event and podcast updates, tips and tricks of the trades, find us on Social Media on these channels:
If you liked what you heard, please show us some love by subscribing to this podcast on iTunes, Google Podcasts or whichever platform you use to listen to. By leaving a great review and hitting the 5 stars, you make this Podcast visible to other listeners with the same interests as you.  Have a fantastic rest of your day! Until next time!