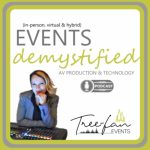 If you're an event planner or working under any capacity in the event industry and have to deal with Audio Visual, Lighting and Technology, this Podcast is for you! It will give you useful information and tips to add to your shiny 'event toolbox' so you're never left confused and frustrated after meeting with an AV professional that sounded almost like gibberish the entire time! Each episode, I will aim to demystify the world of audio visual and lighting lingo and reveal exactly what those techs are really talking about! I will share with you insightful tips, strategies, tactics and  perspectives will help you plan and produce successful events of all types and sizes, regardless of your AV budget.
---
For event and podcast updates, tips and tricks of the trades, find us on Social Media on these channels:
If you liked what you heard, please show us some love by subscribing to this podcast on iTunes, Google Podcasts or whichever platform you use to listen to. By leaving a great review and hitting the 5 stars, you make this Podcast visible to other listeners with the same interests as you.  Have a fantastic rest of your day! Until next time!