Event budgets play a crucial role in determining the success of any event, and managing them can be a complex task. Striking the right balance between delivering a memorable experience and staying within financial constraints requires careful consideration of each line item. Event planners must navigate an array of cost factors, such as venue fees, catering, AV production costs, technology, marketing, and more, all while staying mindful of the potential for unforeseen expenses. Successfully managing an event budget demands strategic planning, flexibility, and a keen understanding of the event's goals and priorities.
Join me and four other senior industry leaders for the MPI's Hot Topic Panel Chat on March 22nd at 2 pm EST where we will share practical and actionable tips to help manage your budgets effectively.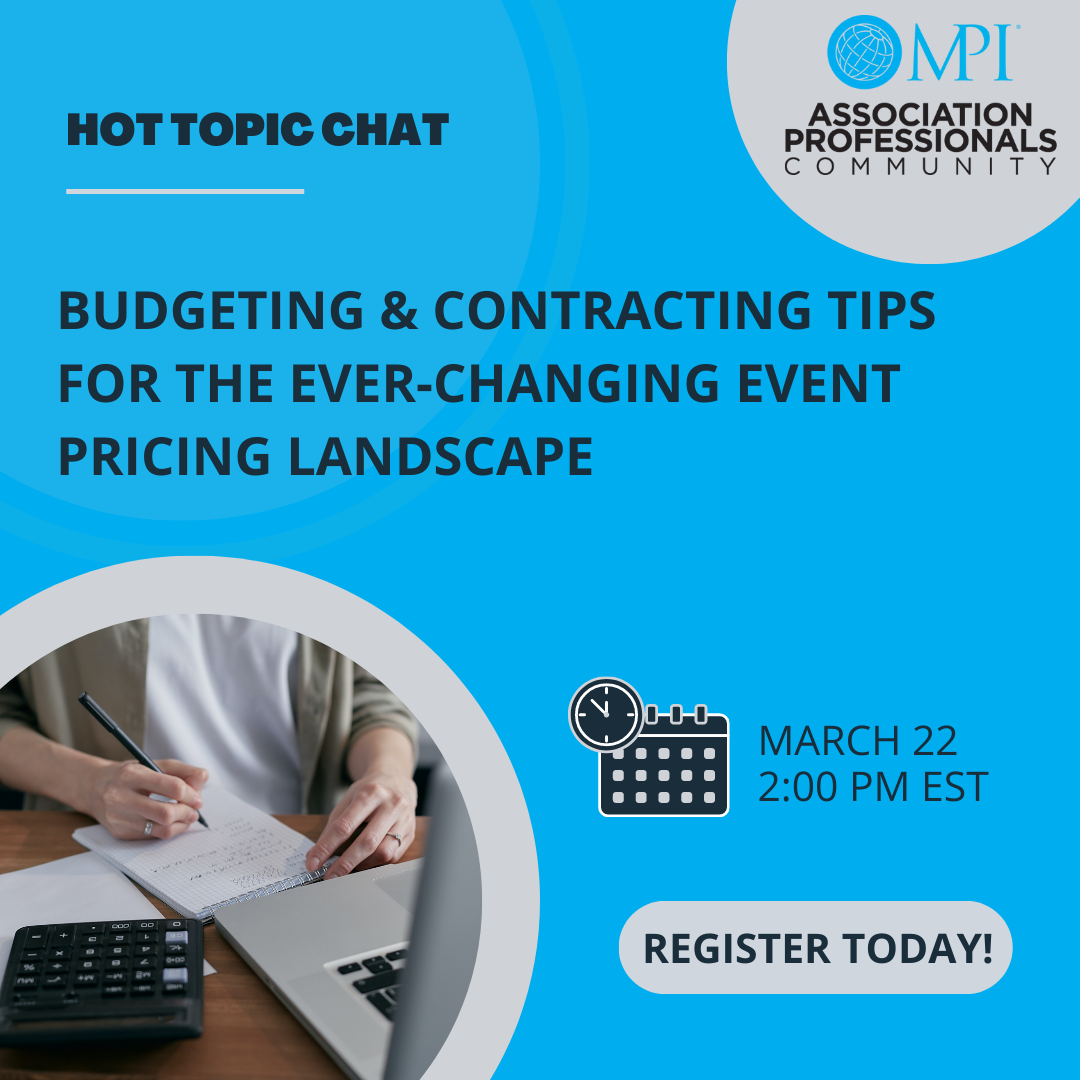 March 22nd, 2023 Hot Topic Event Panelists
Moderator:  Lindsay Plath, Education & Events Manager

Contract Negotiation Expert: Brittney Cobb, INNOV8 Meetings + Events

Venue Senior Account Executive: Sara Krauss, Marriott International
Complex Commercial Director: Kellie Ann Cahill, CMP, Conrad New York Midtown | New York Hilton Midtown
Director of Culinary: Peter Betz, Conrad New York Midtown | New York Hilton Midtown
AV Partner Expert:  Anca Platon Trifan, CMP, DES, Founder & CEO @ Tree-Fan Events
The expert panel discussion aims to delve into key cost-saving strategies for event planners, covering topics such as identifying areas to reduce expenses, prioritizing budget allocations, and securing favorable deals with vendors. The panelists will tackle the unique challenges of contract negotiation in today's ever-changing landscape, which is marked by increased demand for specific event services, limited venue availability, and inflated vendor fees. These experts will provide insights on navigating this complex environment, highlighting best practices to ensure successful negotiations. By the end of the hour-long session, attendees will have gained a comprehensive understanding of cost management tactics and obtained essential tools to help them plan and execute successful events, even amidst rising costs and market challenges.
Save your spot:  https://us06web.zoom.us/meeting/register/tZwpc-2sqzMiGdBoBISPAvMGWohOMvdwTL1S