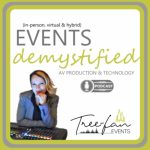 As this month is coming to an end and with it our
one year anniversary celebration
, which if this is the first time you're listening, we've celebrated this entire month with
weekly featured guests
that honored us with their presence, virtually, and
shared from their experience
tips and insights of working in this reality of
planning and producing virtual events
. Having the opportunity to discuss the topic of virtual and hybrid events with my guests and hear their opinions and sometimes their very different perspectives, has provided me and I'm sure all of you listening, with a rich experience of how everyone is navigating this complex world of events differently, by being more resilient, and creative, than ever.
Today is our last episode of this celebration series and I couldn't have invited a more appropriate featured guest for our last episode of the month but an amazing and very experienced
Fundraising Advocate and Ambassador, Johnna Wells
– propelled by momentum and a heartfelt call to cultivate connection and champion for the community.
 Stay tuned for nugget after nugget of wisdom shared throughout this episode!
Johnna Lee Wells can be found at:
For event and podcast updates, tips and tricks of the trades, find us on Social Media on these channels:
If you liked what you heard, please show us some love by subscribing to this podcast on Spotify, Apple Podcasts, Google Podcasts, or your favorite listening platform. By leaving a great review and hitting the 5 stars, you
make this Podcast visible
 to other listeners with the same interests as you.  Thank you ! Stay safe and healthy!