In this post we want to provide you with an in-depth overview of the different virtual event production planning phases for a better understanding of what goes into the pre-event virtual production planning of a virtual event, what do you need to successfully host this type of events and where does a Virtual Event Producer and an external AV production support team fit in.
PHASE ONE: Prospecting & Qualifying Leads
In this first phase, the prospective client makes the call or sends the email to inquire about the technical production services offered and how those offerings might be a fit for their upcoming virtual event. Preferably this call is placed 6-8 weeks prior to the date of the event, and not the week before (although, not unheard of).
Side note: If you are the client making the call to the Virtual Event Producer and/or the AV Production House, please mention the date and time you're considering for your future virtual event. You will be saving yourself and the prospective AV partner (be that an independent Producer or Production House) a lot of time by disclosing the date upfront.
During this phase, the Virtual Event Producer or the Production House's Technical Project Manager will be following up (preferably in less than 24 hrs) to qualify the lead. They will schedule an initial  'discovery call' to find out more about your event, such as, the basic rundown of your event, the elements that go into your event, the type of content needed, the platforms considered and offering recommendations involving different platform integrations, budgets are discussed during this phase, expectations and deliverables, as well as provide you with a road map (production timeline) of what will happen next, including content assets deadlines for each planning phase, all for the purpose of making the AV planning process a smooth sailing experience for you so you can focus on the things that matter most to you.
PHASE TWO: Following Up & Proposal Acceptance
In the second phase, you will be receiving a preliminary proposal for the production costs of your future virtual event that will include the timing for your event as well as any additional tentative dates and times for additional run-throughs (virtual or in person), the cost for each service listed and provided, the roles of each one of the team members that will be involved running your event, the terms of the agreement, the due date for accepting the agreement and the financial terms of signing the contract, including any pre-event deposits (if applicable)  and payment due date.
You might also receive links to previous work performed, case studies, examples or any other relevant information that will help you decide if indeed moving forward with this Virtual Event Producer is the right fit for you and your future event. If you're the client, it's recommended to diligently go through each of the links shared, create a list of questions to follow-up with, making sure you understand the process and the expectations regarding content creation and sharing of any other deliverables that are necessary for the production of your event.
Once the proposal gets signed in acceptance, it becomes a binding contract, the date for your virtual event gets confirmed, the contracted studio booked and the Virtual Event Producer and the studio production team contracted for your event. Your Virtual Event Producer will also serve as the Project Manager and the single point of contact with the contracted studio and production team, or in some cases, you might be assigned a different Project Manager.

PHASE THREE: Pre-Production Management
In the third phase, once the proposal is accepted and the date confirmed, we'll be working on the specifics of the actual event production timeline, how and when are the content assets and all other deliverables being shared between the parties involved, a deadline schedule is being generated and based on that a few several Sub-Phases emerge:
               Sub-Phase A:  Registration & Landing Page
The registration/RSVP page/forms get created and links are being generated to be embedded onto the hosted landing page that is getting built for your virtual event, customized to your own organization and event's brand, complete with detail information about your event, top banners, add to calendar links, registration buttons, online auction/event information links, agenda, sponsor information, etc.
               Sub-Phase B: Internal Design & Streaming Information
Next, the Virtual Event Producer gets the creative team involved and supervises the creation of any graphics related to your event's theme, including background slides to be used during the live stream as well as in the studio (for example, displayed behind the on-camera talent, on a large screen or on a LED wall, specific to each studio's design and configuration). The virtual event production template gets created in this phase the same way you would create a "TV show", complete with lower third graphics, overlays and any transitional graphics that will enhance the overall production value of your event.
If your event involves a virtual meeting/conference platform, this sub-phase includes the initial design of the back-end that gets created as content assets are being shared and received (virtual lobby, hall, auditorium, any gamification elements that need embedded into the back-end, virtual booths setup, etc).
Regardless of the event type and functionality, this is also when all the live streaming logistics are put into motion, streaming RTMP information shared, including the embedded codes/share links for embedding the live stream onto your organization's own website, and/or pushing it to any additional front-end platforms (such as Facebook, YouTube, Twitcher, Vimeo, etc), any additional URL links (password-protected, where applicable) are being generated and shared, options regarding audience engagement via chat and moderation discussed, as well as details regarding polling and Q&A during the event.
               Sub-Phase C: Virtual Speaker Technical Assessments & Run-through Schedules
This phase requires the coordination and close collaboration with all of your virtual emcees/hosts/speakers/presenters on-screen talent that will be part of your virtual live event in one capacity or another.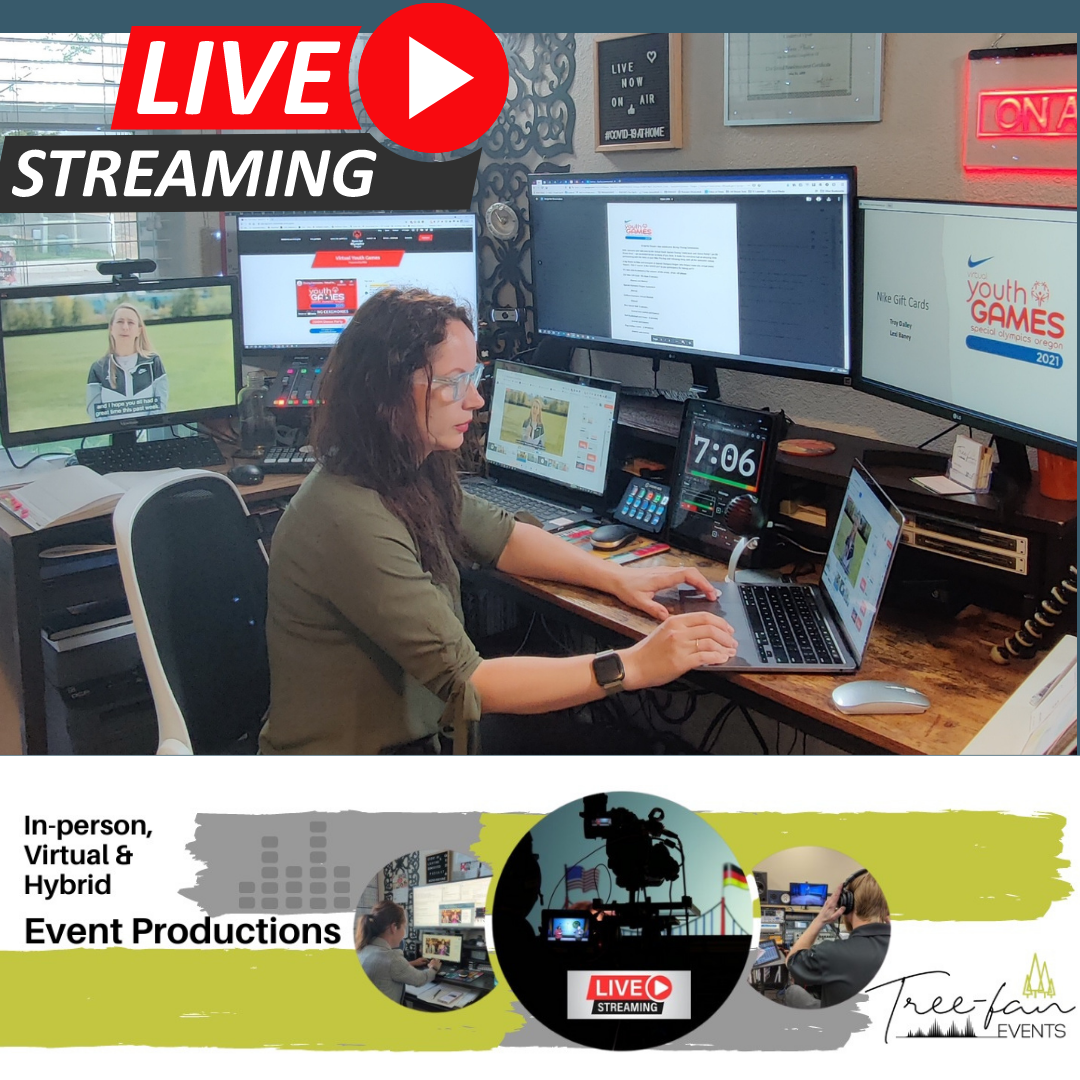 For anyone calling in live during the virtual event, a technical assessment will be run with their collaboration regarding the at-home technical setup and broadband specifications. Zoom/Meet/Teams/vMix calling links will be generated and shared with each live caller and a set of tests & training will be performed to best support each caller, make the appropriate and specific technical recommendations for each caller regarding sound, video, lighting and broadband specs. Any necessary back-end platform training will occur during this phase, as well any technical support for virtual booths back-end access, webinars, going live, sharing and/or uploading content, formats, etc.
A team production schedule with point-of-contact information for all partners, vendors, staff, on-screen speakers/talent will be generated and shared, with exact times for the production team that will manage and operate the day of the event, as well as the times the on-screen talent is expected to arrive/call in. Virtual or in-studio technical run-throughs will be coordinated and scheduled during this subphase with all the on-screen/calling talent that will present/perform live.
               Sub-Phase D: Finalizing Run of Show and Production/Event Scripts
In this phase one last virtual production meeting will get scheduled during which the client, the Virtual Event Producer and the Production Team leads (Studio Director and/or Live Streaming Engineer) get to meet and discuss the Run Of Show, any technical cues listed on the technical event script and review the content assets delivered. As a general rule, this meeting happens in the week leading to the event when the ROS and Script are as close to FINAL as they can be. Any additional show content builds that need updating, changes that might have occured between sub-phase B & D, will be done here. Having your ROS and Script finalized before this Pre-Event Production meeting is quite important because it will allow for that wiggle room in the previously agreed-upon deadline, so that the creative production team have the time to update any graphics accordingly. The big challenge here is when the creative production team has been locked into back-to-back live streams and the client presents those last minute changes the day before or sometimes even (!) the day of the event, not allowing any time for these changes to actually be integrated into the live show template build. The production team will certainly, do their best, however, deadlines are created so that expectations are met on both sides of this crucial collaboration.
               Sub-Phase E: Technical Run-throughs: Test and Practice
Technical Run-throughs and Pre-Event Rehearsals have always been highly recommended during in-person events. Scheduling technical run-throughs for a Virtual Event is VITAL to the production and smooth execution of your event. Regardless if this is your first or your one hundredth event, practice makes perfect and getting your emcee/host/speakers on-screen talent comfortable with the technology, its capabilities and challenges, is of utmost importance in order to be prepared to overcome any challenges that could potentially happen.
During the technical run-through, you will want all key people involved to get as comfortable as possible with the platform of choice, the back end setup & operation, we will have your on-screen talent testing and re-testing their internet connection and speed (preferably the same time of the day the event is scheduled to take place), making sure everyone calling in via Zoom (or any other video platform) is hard-wired to the internet, if possible, nobody else in the household is streaming at that time, their lighting is optimal, an external microphone is used for optimal sound quality , headphones (or earbuds) are recommended, the background (visuals and noise levels) is appropriate, the camera is at eye level, the script is not far off from the camera so they eyes don't visibly constantly look off-camera, as they reference the script.
               Sub-Phase F: Murphy's Law, having a contingency plan
Assuming you've done everything in your control to make sure your virtual event won't go awry during the live stream, you should be able to rest assured than it won't, however, having a contingency plan in place is wise. Mishaps sometimes happen, technology scan have a mind of its own, so in order to mitigate and handle some of the virtual event technical difficulties that might occur, follow these tips:
Get used to Murphy's Law and be ready to work around any road bumps.
Hire a Virtual Event Producer – having one on your team can ease a lot of the worry of handling all the technical details of your event, developing the technical script, scheduling all the technical rehearsals with your emcee/hosts/presenters/speakers on-screen talent, training them, and also providing you with a back-up plan for the technical production team so the stream goes on, if something were to go wrong.
Choose an Emcee that is as cool as a cucumber – if your keynote drops off during the live stream due to a bad internet connection, no problem your Emcee will step right in and smoothly close over the gap and transition into the next part of the event's programming.
Pre-Event Roll – running a 30 minute pre-roll before the event is scheduled to GO LIVE will give less tech-savvy attendees plenty of time to log/sign into the stream as well as give the production team time to test all embedded links and streaming links pushed to all of the other platforms involved.
If you're unsure about hiring a Virtual Event Producer, check out this post to find out more:
PHASE FOUR: Day-of Event Production & Execution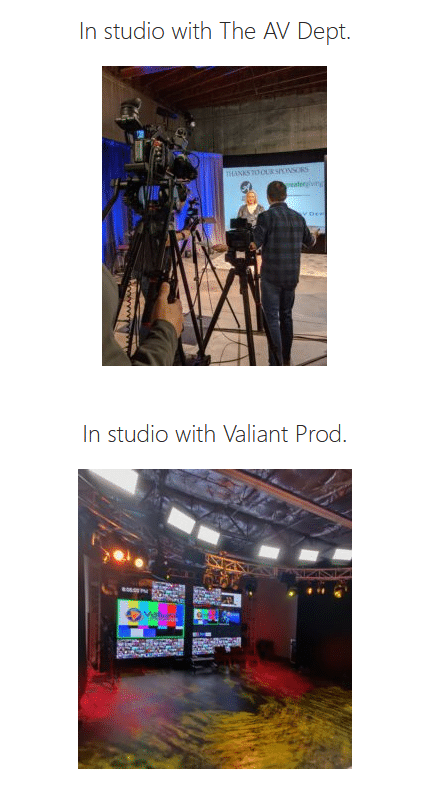 The much awaited event day, that you've worked so hard for, is finally here.
All that hard work will finally pay off!  The day-of the event, depending on the format of your specific event, you will either meet in-person or virtually with your Producer, Studio Director and Remote Team a couple of hours before the event goes live for one last technical run-through and practice check with everyone involved, including your emcee/hosts/speaker on-camera talent that will be virtually calling in, making sure everyone is setup with their day-of event technology, including optimal lighting, clear sound and a crisp camera feed.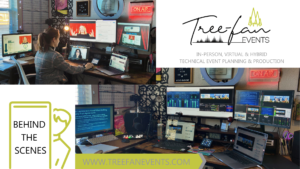 If your virtual event has elements that are streaming from a studio or from on-location somewhere, based on your specific geographical COVID-19 safety guidelines, you will meet, in person or virtually, with the Technical Event Producer and Production Team before the event and similarly, have one final technical run-through scheduled with everyone involved, ensuring all scripts and assets are up-to-date, your Remote Team (managing registration, online bidding, chat moderation, speaker management, etc) that is not physically present with you in the studio will have their own Zoom/Meet links and studio feed setup so that you can stay in direct contact with them during the event.
Running one last pre-streaming checks on all platforms involved will ensure no last minute technical surprises and/or front-end API changes which will ensure your event will be running smoothly, all fingers crossed.
PHASE FIVE: Post-Event Follow-up
Unfortunately, most events and event professionals completely ignore this phase of the event planning process. When we plan and host live events, the pre-event planning gets the most attention and we often don't focus a lot of our energy on the post-event follow-up strategy. Once the event is over, most likely the Virtual Event Producer and/or AV Production House/Team are already moving on to the production and execution of the next virtual event and finding yet another time to meet with them could prove difficult. However this phase is essential to compile a list of things that have gone right and learn from the things that need some fine-tuning and could have been done differently, so make sure you request this meeting and emphasize why it's important to you. Post-event, make sure to request a downloadable link to your event because if your virtual event was successful, people will most likely want to watch it again, or even go see it online for the very first time. Have your Production Team edit any parts of the recording that you'd rather keep out and also include a timestamp menu, so people can jump to a specific section, whether that's the beginning of the live program, the keynote speech, a specific training, or a musical performance. Offering a post-event recording of your live event allows you to re-engage and stay connected. It also allows you to watch and analyze your event to determine what to fix for next time.
Follow-up surveys are also a great way to provide some great insight into what you did right and  get a glimpse into areas that need improvement. Find out what your online attendees liked (and disliked) the most about your event, keep a record of the feedback, and make adjustments for promoting your next virtual event.
>> If you're in need of a Virtual Event Producer for your future virtual event, please contact us today!  We have the expertise, the clear understanding and the technical ability – proven by an amazing track record of producing successful in-person and virtual events – to plan, produce and execute a definite plan for your future event that will engage your online audience and you will meet your event's goals, fundraising or otherwise.