Most of the virtual events being hosted and produced these days involve video technology platforms connecting people in an intuitive manner using live, as well as pre-recorded video content to bring the experience to life. Much of this technology requires a Virtual Event Producer with technical understanding in order to be used and run properly and efficiently. Also, because the potential for technical issues is exacerbated with virtual events, any type of potential technical issues or glitches need to be addressed very quickly by someone knowledgeable because the entire event infrastructure is essentially event technology and you don't want anything to distract your online attendees.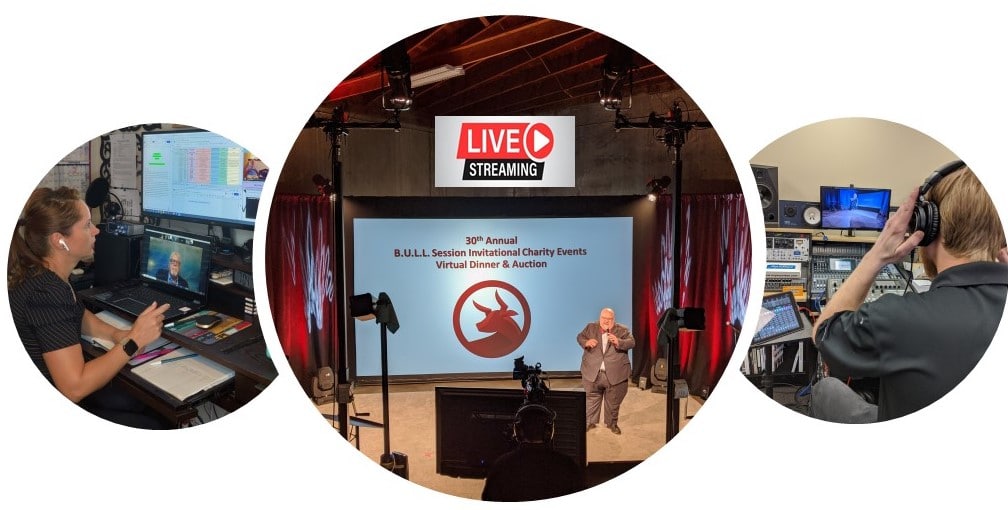 What we see more often than not, is that when it comes to producing a virtual event, there is a conundrum between doing it yourself or paying someone more qualified to do it for you. Hosting and producing a virtual event takes not just energy,  assets, and focus that you could be committing to growth and your organization's mission and the values it has to offer, but also a experience in dealing with audio and video equipment, internet bandwidth requirements for live streaming and broadcast style production.  If you can pay a little bit of money to hire someone to do it better, faster and more efficiently than you would be able to do it just starting out, often even if the upfront cost might be a bit expensive, it makes a whole lot of more sense because I can guarantee you, the time, energy and money that it would take you to learn any new platform would be so much higher than if you had a professional do it for you. So if you find yourself at cross roads right now, between doing it internally or hiring a professional to do it for you, you should go with the latter almost always unless there's nothing else out there to fulfill your criteria because it's so outpacing anything else that's been done before, or on the other end of the spectrum, if you just want to host a zoom call between a few participants without any real production value enhanced by actual content, engagement and a strategy. With this in mind, in this post we'd like to answer two simple questions.
What is the role of an Event Producer for a Virtual Event?
A Virtual Event Producer works with you and your team helping with a majority of technical decisions and aspects of your future virtual event. This person is primary technical contact for the client team during the virtual engagement process, as well as the liaison between you and the AV Production House/Team, making sure your virtual event objectives come to life, focusing on bringing your event into the virtual world with much care and consideration, by helping with every step of executing your virtual event seamlessly and enhancing the virtual experience for you, your attendees and your presenters.
A Virtual Event Producer will provide you with an understanding of technical requirements to create their virtual events, as well as training as needed.  Whether you've chosen to pre-record your sessions or present live, a Virtual Event Producer can walk you through all the scenarios that can occur when hosting a virtual event, and help your emcee, hosts, speakers, and moderators set themselves up for a high quality presentation.
What else does a Virtual Event Producer do?
will project manage every technical aspect of your virtual event,
will develop and maintain event budgets,
will provide an honest, unbiased, first-hand description and recommendation regarding platforms features and benefits that might be the right fit for your event,
will help craft the event strategy and design,
will help with the development of an effective production plan,
will coordinate pre-production logistics planning with all host/speaker/talent as well as the AV Production team for flow development and technical rehearsals,
will train and ensure that all on-screen talent is ready for primetime,
will oversee the event theme, graphics design and creative process to ensure all visuals are optimized for a virtual event format,
will build and adapt production timelines,
will schedule and run any technical run-throughs and working closely with any in-studio teams to implement your vision,
will coordinate the collection and sharing of all necessary event content assets for live streaming,
will mitigate technology risk and create back-up plans,
will manage all aspects of the live streaming production for a broadcast-quality experience.
>> If you're in need of a Virtual Event Producer for your future virtual event, please contact us today!  We have the expertise, the clear understanding and the technical ability – proven by an amazing track record of producing successful in-person and virtual events – to plan, produce and execute a definite plan for your future event that will engage your online audience and you will meet your event's goals, fundraising or otherwise.