If you've already planned and hosted a virtual event in 2020, you know  now that very few things are as effective — or as time consuming — as virtual fundraising events. These type of events have an incredible reach which have the potential to bring in big time donations which in return can have a huge impact on furthering the organization's mission, but (why does it always have to be a 'but'?) they can also consume resources, most specifically time.
While in-person fundraising events can consume lots of money not just time, in the case of virtual fundraising events, you will save big on venue costs, food & beverage, speakers and attendee travel time and costs, just to name a few of the most obvious savings, while things such as the technology (think online bidding platform), and the AV production (think live-streaming the virtual live component of the online auction), will be at the front and center of any virtual fundraising event.
Online fundraising auctions with a broadcasted live component are the type of events we love, we became specialists in, and we have a thought or two to share with you about.  As with in-person, virtual or hybrid events, it's important to have an effective strategic plan to begin with that will save time and execute a flawless fundraiser. We know, no matter the format, size or setting, planning an online auction can feel extremely overwhelming. Here's the good news, by the time you're done reading this post on planning and hosting a successful online fundraising event with a live-streaming component for your nonprofit, you will be on track to planning a successful event that will help support and further your organization's mission while engaging and entertaining your online audience all at the same time.
Why host an online auction with a broadcasted live auction component?
As with any event, tt's important to start with the end goal in mind. Every event, whether big or small,  in-person, virtual or hybrid should have a solid strategy. The earlier you can get to implement that strategy and start planning, the better. Before you get on hosting a virtual event, consider the following questions:
 What type of auction is right for your fundraising effort?
 What kind of experience do you hope to deliver with your virtual event?
 Where and how do I want the content to be seen and heard?
 When is the best time for this virtual event and how is this timing different than before?
 Will your event require event registration and RSVP-ing?
 What type of technology is needed to successfully host the event?
 How will you market and promote the event?
 What type of analytics and KPIs data do you plan to track?
Step 1: Determine the right auction type that will best serve your Virtual Fundraising Event
Online silent auction? Live Broadcasted Auction? Both? Determining the best auction format type for your event depends on your organization and its specific goals.
There are some pros and cons to each type, so let's review each so you can find the perfect fit.
1. Online Silent Auction – During a traditional silent auction, items are being displayed around a room and supporters place their bid on the item(s) that they're interested in winning. This popular style of auction is recreated online quite well  through the use of a dedicated event website that hosts an online catalog and an easy to use mobile bidding platform that creates an excellent opportunity for attendees to review and easily place bids via their mobile devices on available items without any pressure. While during an in-person silent auction the time frame for the silent auction to be kept open ranges between an hour to several, during an online silent auction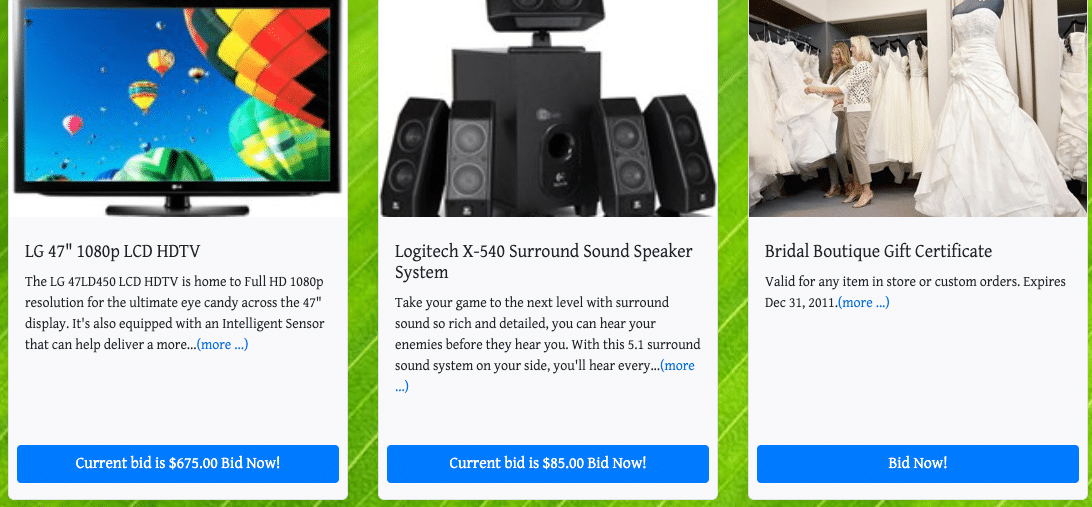 , the auction could be open for weeks before the live virtual event, many times lasting past the day the broadcasted event ended. This provides opportunities for bidders to review more items, bid easily, once registered to bid, and if outbid through the use of push notifications, to be instantly notified on their mobile devices & bid again, or set maximum amounts with the auto-bidding enabled up to the maximum amount set. An online auction platform makes giving easy and there's always a high chance to walk away with an amazing item while also supporting a worthy mission which  spurs more giving. Choosing the right technology solutions makes the logistics of virtual fundraising much simpler than in-person auctions.
We've got three case studies out of dozens to highlight the fact that nonprofit organizations of all shapes and sizes are adding online silent auctions  with a virtual live auction component to their fundraising toolbox. Why? Because virtual fundraising auctions can help nonprofits raise a lot of money.
2. Virtual Live Auction – A virtual  live auction mimics your in-person live auction, only it is held exclusively online on a  custom landing page or a dedicated event website,  where  everything else happens too: the online catalog link, the broadcasting of the live auction event, including  pre-event virtual entertainment, festivities, testimonials highlighting the organization's cause and mission, the live ask/appeal during the event, the post-event networking, etc.  This type of auction basically brings all elements of an in-person live auction to a digital format. With large in-person galas not being the best and safest option for the past nine months, virtual live auctions have allowed nonprofit supporters and donors to "meet" virtually and still raise money for important causes.  By meeting your donors exactly where they are and offering them a more streamlined, convenient bidding experience that keeps the energy up, delivering immediate notifications to bidders, and providing a one-stop shop for all bidding on the fundraising platform website, you increase your fundraising capacity. With the help of an online fundraising platform (and we have several that we work with and make recommendations on), there are still ways to incite giving, create community, and power your mission forward in a virtual world. The benefits of a virtual auctions include:
(1) A larger audience reach because now you're no longer limited to a certain number of seats due to the venue's capacity. You can now share your fundraising mission and your virtual event site far and wide.
(2) Lower cost. Your overhead cost is significantly reduced without a venue, the food & beverage, in-room AV production costs, signage, travel expenses and all the other additional event costs!
(3) Flexible. You can specifically suit your mission, community, and goals to your nonprofit's virtual auction at the time that makes most sense for your audience and with the power of reply you can reach beyond a specific time zone. The Live broadcasted component of a Virtual Live Auction is an extremely effective way to engage donors during your virtual fundraising event, especially when employing an emcee that's very familiar with your organization and a benefit auctioneer that is very familiar with fundraising in a digital format. Every virtual fundraising event that we had the opportunity to produce had a huge revenue improvement to the online auction by the added component of broadcasting the auction live, incorporating pre-recorded content or having a combination of both, so taking those options into considerations is an important step into your pre-event planning of your future virtual fundraising event.
Step 2: Determine the right Technology and Production Partners to best serve your Virtual Fundraising Event
Some comprehensive virtual fundraising platforms will include the ability to embed the live video feed directly onto the fundraising event page to keep donors on one screen, or even provide built-in live-streaming capabilities which are good options for small-scale virtual  events and gatherings that employ platforms such as Zoom as the incoming video feed, but are somewhat limited to the type of content and the quality of which that content is being played back. Larger, more sophisticated events with various live video feeds and pre-recorded content elements that need branding and the ability to seamlessly play and switch in between the several video sources, will highly benefit from the expert knowledge and experience of a  Virtual Event Producer that will produce a more immersive and engaging live-streaming experience, add a much higher production value to your event and more branding opportunities throughout the broadcasted live event. Connecting with a Virtual Event Producer and their Live-streaming Partners will sharpen and elevate your fundraising strategy.
Tips and suggestions on how to successfully plan to Live-stream your Virtual Fundraising Event:
 Start by putting together an event team to assist you with your event's content creation, production, and fundraising efforts
 You will require to develop a straight-forward strategy for mission-focused content and storytelling during the live event
 Communicate about your Virtual Event and have key stakeholders spread the word through the use of their own channels
 Work on creating a focused 45-60 min virtual live auction program run of show (in our experience based on analytic data collected so far, the average watch time is 30 minutes and drop off time occurs at 50 minutes).  If you don't have any ROS and Cue2Cue templates to use, download some free templates from here.
  Create an event website page or use the online auction platform to host your virtual event fundraising event page. We have the ability to host your fundraising event page on our proprietary live-streaming website that can be branded and customized to your own needs. Contact us for specific visual examples.
 Dedicate a FAQ section on the virtual event website or the online auction platform's event landing page with event information for the date, time details, add-to-calendar feature of the Live Broadcast of your virtual event (make the When, Where, How and Why easy to find and save to a personal calendar).
 Create a unique #hashtag for your event (make sure you research that hashtag so there's not other content being generated by it) and include it in all invitations, on all social media campaigns, and other promotional material that will be sent out or scheduled. Targeted information about the event should continue to be released up until hours before the LIVE virtual event to remain top of mind with potential guests as well as those already confirmed.
 Create three separate slide decks for your Live Virtual Event:
One for the event's Pre-Cast (typically the live event's Pre-Roll happens 15-30 minutes before the event goes LIVE). This slide deck could include instructions on how to watch, donate and bid, highlighting sponsors, promo of impactful speaker(s), etc.
Pros Advice: this Pre-Cast time could also be allocated to pre-recorded or live remote entertainment performances, fun games, virtual cocktail watch-parties, etc.
One for the LIVE program being broadcasted that follows your run of show tightly and includes cues on the Cue2Cue script with specific slide numbers, add-on graphic elements such as lower thirds or overlays as needed. This is when having a Virtual Event Producer is exceptionally helpful especially for a TV-like broadcast that now you're finding yourself planning, hosting and producing.
And the last one for the event's Post-Cast (5-15 min max post the LIVE broadcast with thank yous, sponsors, any social media hashtag user generated content during the LIVE, any information on when the online auction closes and where to watch the replay of the Live broadcast, etc.
 Offer several RSVP incentives to your current and soon-to-be supporters to encourage pre-registration and drive ticket sales (where applicable)
 Promote Watch-2-Win drawings or Wheel-of-Names giveaways during the LIVE virtual event to create excitement leading to the event and encourage the live viewers to keep watching till the end by offering 2-3 drawings throughout the program.
 Activate donor stewardship the week-of your event by sending wine, cards, meals, etc.
 Have your graphics designer create transparent .png files for all graphic overlays, lower thirds and titles to be used during the live stream, or work with your Virtual Event Producer to create those for you based on your event's branding (share all logos in high resolution) – this might be an additional service so make sure to account this into your event's budget. Spending time thinking about the visual elements of the broadcast will give your virtual event a polished branded look.
 Have as many of the remarks or messages pre-recorded to use during the live broadcast, this is a great way to limit the potential for any technology glitches on the production side. Contact your Virtual Event Producer for best practices on how to do this remotely or have those sessions scheduled to be recorded by a third video production company or in the broadcasting studio, based on time availability. Any media production work will be an additional service charge, if you need a polished product, make sure to create a line budget item in your overall event budget to account for this.
 Share all your content assets with your Virtual Event Producer at LEAST one week before the event GO LIVE date to make sure the collaterals gets tested, qualified & built into the LIVE Event Broadcast template.
 The Day of the GO LIVE, have your Live-streaming Partner run one last technical run-through a couple of hours before GOING LIVE, testing all equipment, bandwidth, and platform(s), as well as all the On-Camera talent (remote or in-studio).
 Engagement and Interaction is essential during the LIVE event – assign Chat Cheerleaders to utilize the comment interactive feature during the live stream, have the emcee or benefit auctioneer specialist promote Facebook or Zoom watch parties during or post-cast and shout out to viewers and donors that have joined LIVE.
 Sprinkle your LIVE Program with multiple mission-impactful storytelling moments with immediate call to action with ask for donations or text-to-give.
Marketing your Virtual Fundraising Event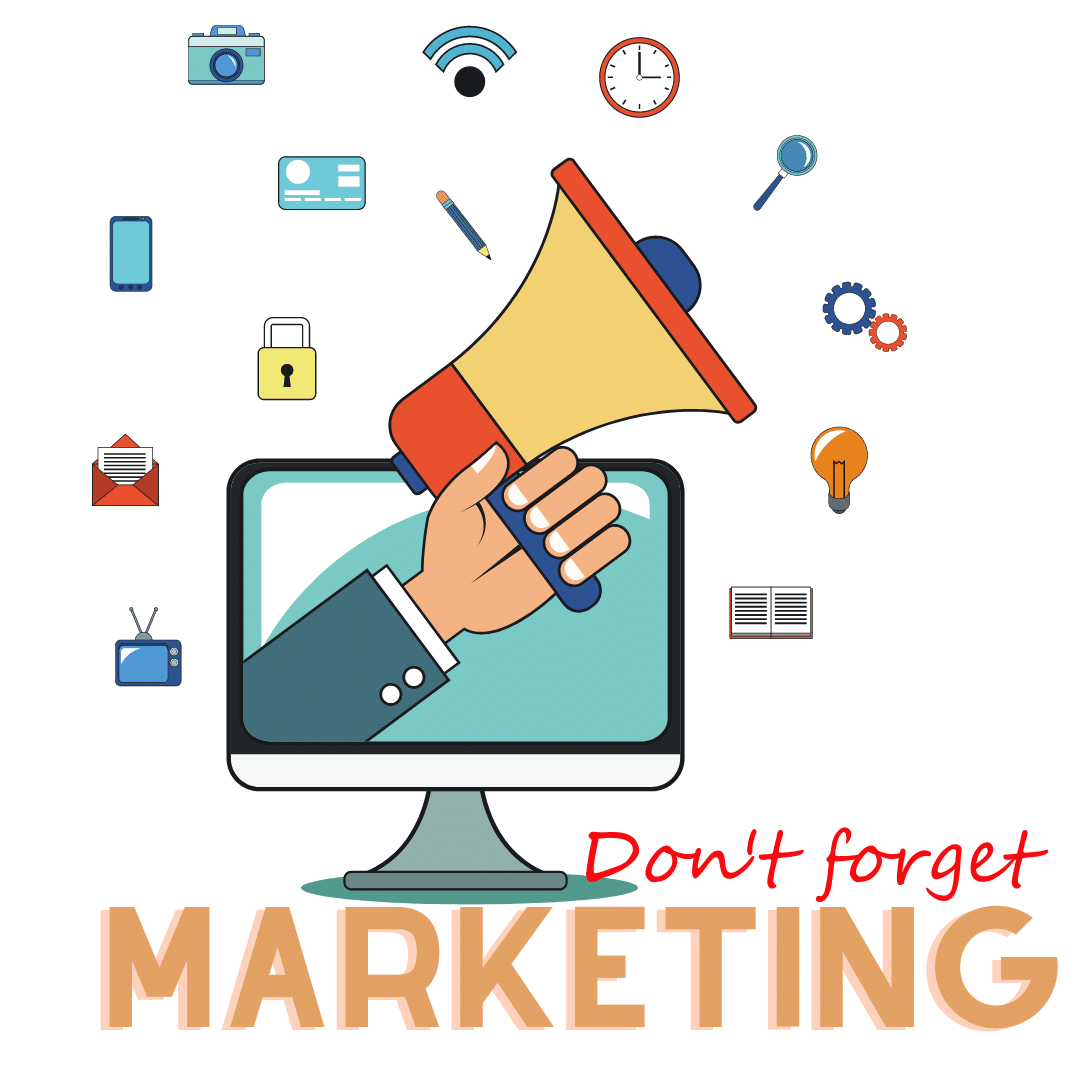 One of the biggest mistake we've seen nonprofit organizations make is neglecting to continuously market the event and their mission before and during the fundraiser. Just because an event is planned and there's an online auction catalog available to browser  for days and a date is set for the LIVE virtual event, it doesn't mean that supporters will just show up and the donations will flood in. In order for it to be a success, your virtual  fundraising event needs to be marketed effectively before, during, and after all of the online guests have logged off. If this is not done right, the organization  will risk not only losing the investment in the event, but potential donations. During an event is the perfect time to share highlights and capitalize on excitement so donors will be eager to support your mission—and those who missed out will want to contribute online or donate post-event, which is a great strategy to capitalize on the power of the on-demand reply.  We've seen organizations raise as much as double the amount raised during the LIVE broadcast by sharing and making available the recording of the LIVE event to capture all online attendees that couldn't make it the day of the event. Current data suggests that from all your RSVP-ed registrenets, only 40% will make it the day of your LIVE event and that means you have their contact now to promote your mission past the event's day by making the recording available to them to be watched on demand and donate post LIVE event.
Offering value to your sponsors
Much like an in-person fundraising event, partners and supporters can sponsor specific parts of the event, like for example, a pre-event virtual reception or a virtual cocktail party, post-event virtual networking 'happy-hours', or sponsor the entire event based on pre-agreed event sponsorship packages or tiers. According to one of our favorite BAS partners, Patrick Siver of gEvents LLC , brand recognition opportunities can include logo placement on the online auction specific website, listing on the live-stream landing page, listing on a category specific slide during the pre-Cast, LIVE event or post-event. Recognition before or during the LIVE stream in one promotional advertisement, or verbal recognition during the LIVE stream, name and logo recognition incorporated on the event's marketing materials and event website, dedicated thank you posts on social media and all marketing materials such as newsletters prior to the day and post the date of the event, moderator recognition of sponsors before and after LIVE event, and the opportunity for sponsors to include a brief video testimonial tailored to the specific cause and mission that's played during the LIVE stream. All these benefits add on with additional exposure provided by the replays of the on demand event recording available on the internet for perpetuity.
Learn more about our virtual event services and contact us to see if we are a good fit for you and your upcoming virtual spring fundraising event.
We will be going LIVE on February 10th 10 am PT/ 11 am MT/ 2 pm CT to spill the beans on what it takes to produce a successful fundraising event, make sure to Reserve your Spot here.