Event production is a complex and challenging process, but with the right tips and strategies, you can elevate your event to the next level, and achieve your event goals while creating a memorable and engaging experience for your attendees. That all sounds great on paper, but how do we go about it in practice? That's the main question I get asked during many of the conversations I have with established or potential clients.
And it's a valid question, which is why when I consult with my clients, we don't just have a conversation about the type of gear they should use for their event, instead, we pursue the WHY and WHAT before we get to the HOW.
We dive deep into strategy because while the technology and production tools that are there to support your event have the potential to make or break your event, without thought-out intentional strategy and planning, your event won't produce an ROI or deliver on your KPIs, assuming you have set your KPIs in place.
This blog post below is part 2 of 2 and will provide you with the first three tips for next-level high-value production by providing you with the insights and expertise you need to succeed. Don't settle for an average fundraising event or gala – let's work together to create an exceptional and memorable event that achieves your goals and leaves a lasting impression on your attendees.

Tip 4: Partner with Sponsors & Donors 
Partnering with sponsors and donors or leveraging existing partnerships are a great source of underwriting or offsetting an event cost, such as venue rental, AV production, flower centerpieces, a signature cocktail or food, or they can donate cash. You can also ask them to provide in-kind donations, such as food, drinks, and prizes, to further reduce your costs, increase visibility, and create long-term partnerships. Based on the different types of sponsors (most often falling into these four categories: branding, content, experiential, and exhibitor) which will all have different needs, you will need to create different pitches and offer different sponsor packages. Proposals are not one size fits all. Know your sponsor's specific initiatives and focus on those that align with your organization's work.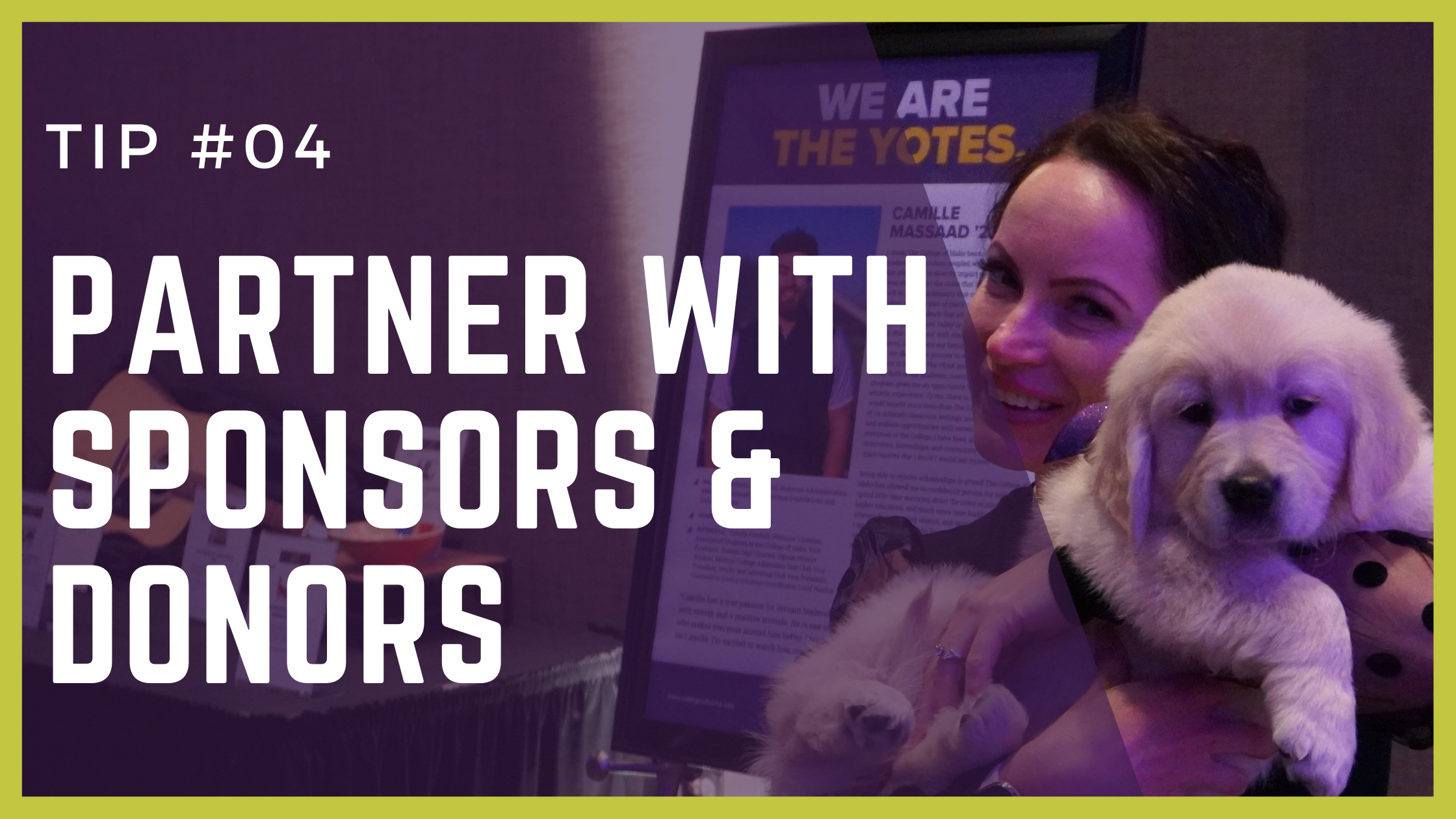 When contacting a potential sponsor, create different sponsorship levels, and show the benefits tied to each level of sponsorship. Clearly show how sponsoring your gala could benefit a sponsor, by including statistics about your organization, impact, and donor profiles to help support your pitch. Provide your potential sponsor with the demographics of your audience, including:
The number of guests anticipated

Number of guests in previous years

Socioeconomic range

Age range.
Additionally, detail the benefits your corporate partner will receive, such as:
Inclusion in your programs

Recognition on your website and event page

Ability to put branded merchandise in attendees' swag bags

Opportunities to speak at your event
If you don't have any potential sponsor partners to reach out to, you will have to work on cultivating them, just as you're cultivating your donors.
To enhance your chances of success you should leverage your personal and professional network:
Your LinkedIn presence year-round helps you cultivate relationships with potential partners and sponsors. When you're proactively building up your

thought leadership content

on LinkedIn, you set the stage for fruitful conversations ahead of your gala planning.

Ask board members and staff for contacts they may have at corporations that would be a good fit for your nonprofit as a sponsor.

Follow up with your prospects. Potential sponsors may not respond to your initial outreach effort. Always follow up with a phone call 5 to 7 days after you send your sponsorship letter or make your initial phone call.
Food for thought:
How do you go about finding the right sponsor partners for your event?

What has been your plan for your procurement process?

What methods do you use for keeping things on track? 
Tip 5: Market Your Event 
With everything lined up on the operational end of things, you have to consider how you will market your fundraising gala. In order to encourage your loyal supporters to attend a formal event with a higher-than-usual ticket price, you'll want to deliver on the promise of a great evening. Depending on your organization's cause, size, and years in operation, your supporter base may exhibit a wide range of demographics. The more you cater to each group, the more likely they will engage with your initiatives. For example, young donors might not be as motivated to come to "old-school" galas as their parents are. In fact, younger donors might even express concern over dressing up in their finest garb for a fancy dinner when the cause supports starving families. According to data provided by Classy.org, millennial donors are less concerned with what is being served at dinner and more about your organization's impact.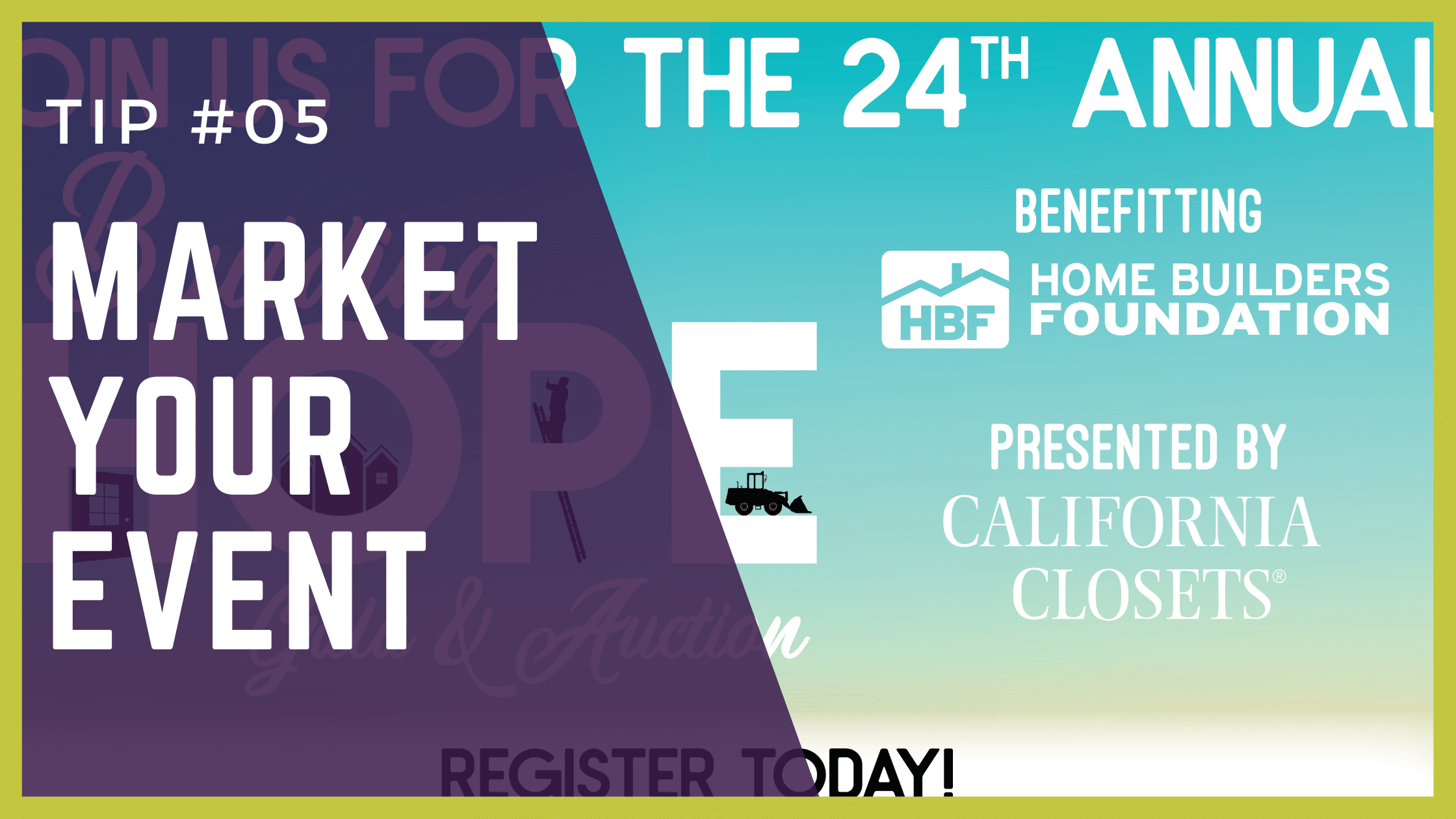 Follow these tips to effectively market your event:
Establish an internal marketing communications plan.

A

communications plan

will make your event messaging more consistent and effective. Build out a calendar with information about your promotional content, when and on which platforms you'll post it, and who the intended recipients of your outreach efforts are.

Include calls-to-action on your website and social sites to create community, belonging and FOMO.

Let donors know how to get involved with your event by adding a clear

call-to-action

to all marketing efforts. This can take the form of a button on your website, a QR code on hand-outs and print-outs, linktree.com links on Instagram,  or a subject line in your email. Just be sure to use strong, urgent language like "Don't Miss out", "Get in on the action", "Register Now", "Let's go", "Count Me In", or "Donate Today." For the Virtual fundraiser, add CTA such as: "Claim Your Seat", "Save Your Spot".
Leverage a multi-channel marketing approach. Take full advantage of your website, social media, email, and direct mail to reach your intended audience. Using a combination of these communication channels provides multiple touchpoints for interaction.
 Keep in mind that successful fundraising events require promotion well in advance. Start sending out marketing materials about a month or two prior to the event to build anticipation and drive registrations. Adding new aspects each year could be as simple as increasing how you leverage technology for your event.
Food for thought:
What is an example of a  successful marketing campaign that worked for your fundraising gala?
Tip 6: Follow up with Thank-Yous and Asses your Results Post-Event
After the event, thanking your supporters and following up with new donors is a crucial step in cultivating strong relationships and ensuring the success of future fundraising efforts. It's important to express your gratitude and show your donors how their contributions have made a difference. This can be done in different ways, below are just a few ideas: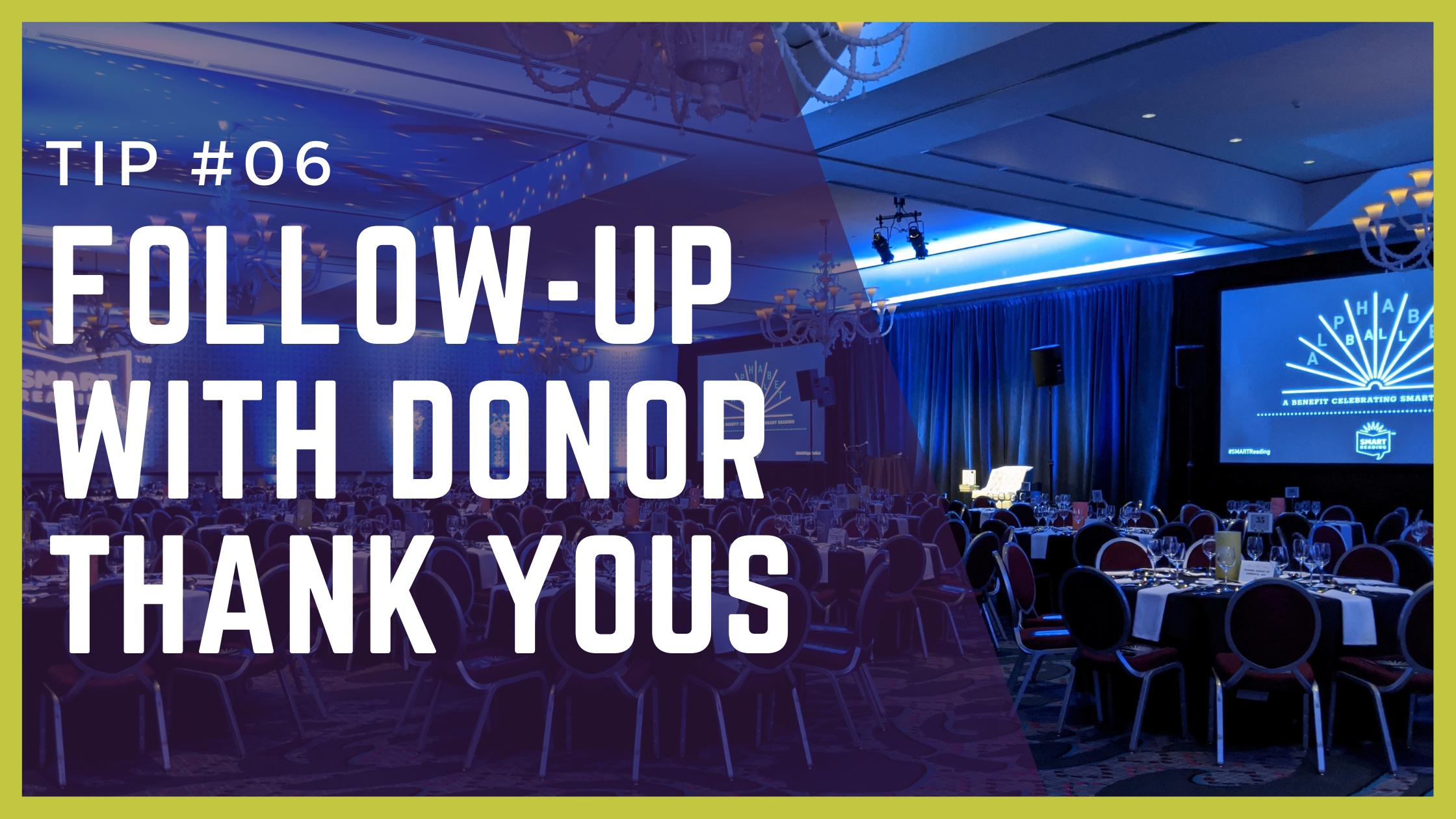 Follow up with a personalized thank-you note, share photos and videos from the event, and provide updates on how their donations have made a difference within 24 hours to a week of the event.

Send out a survey to participants asking for feedback and gauging their interest in other events

Feature major donors in your organization's newsletter or annual report

Provide event attendees with additional opportunities to connect to and support your cause, and spread the word about your cause.
Additionally, following up with new donors is an important part of cultivating a long-term relationship. This can include providing updates on the progress of your organization's mission, inviting them to future events, and offering opportunities for engagement and involvement. By keeping your new donors informed and engaged, you can build a stronger relationship and increase the likelihood of future donations.
By expressing gratitude and offering opportunities for engagement, you can cultivate strong relationships and achieve the long-term success of your organization's fundraising efforts by building a loyal donor base that will support your organization's mission for years to come.
Tip 7: Post-Event Asses your Results 
Analyzing the results of questions related to fundraising event management is crucial to improving future fundraisers. It allows you to assess what worked and what didn't, and identify areas for improvement. By analyzing the data, you can identify patterns and trends, such as which activities were most successful in generating donations or which marketing channels were most effective in promoting the event.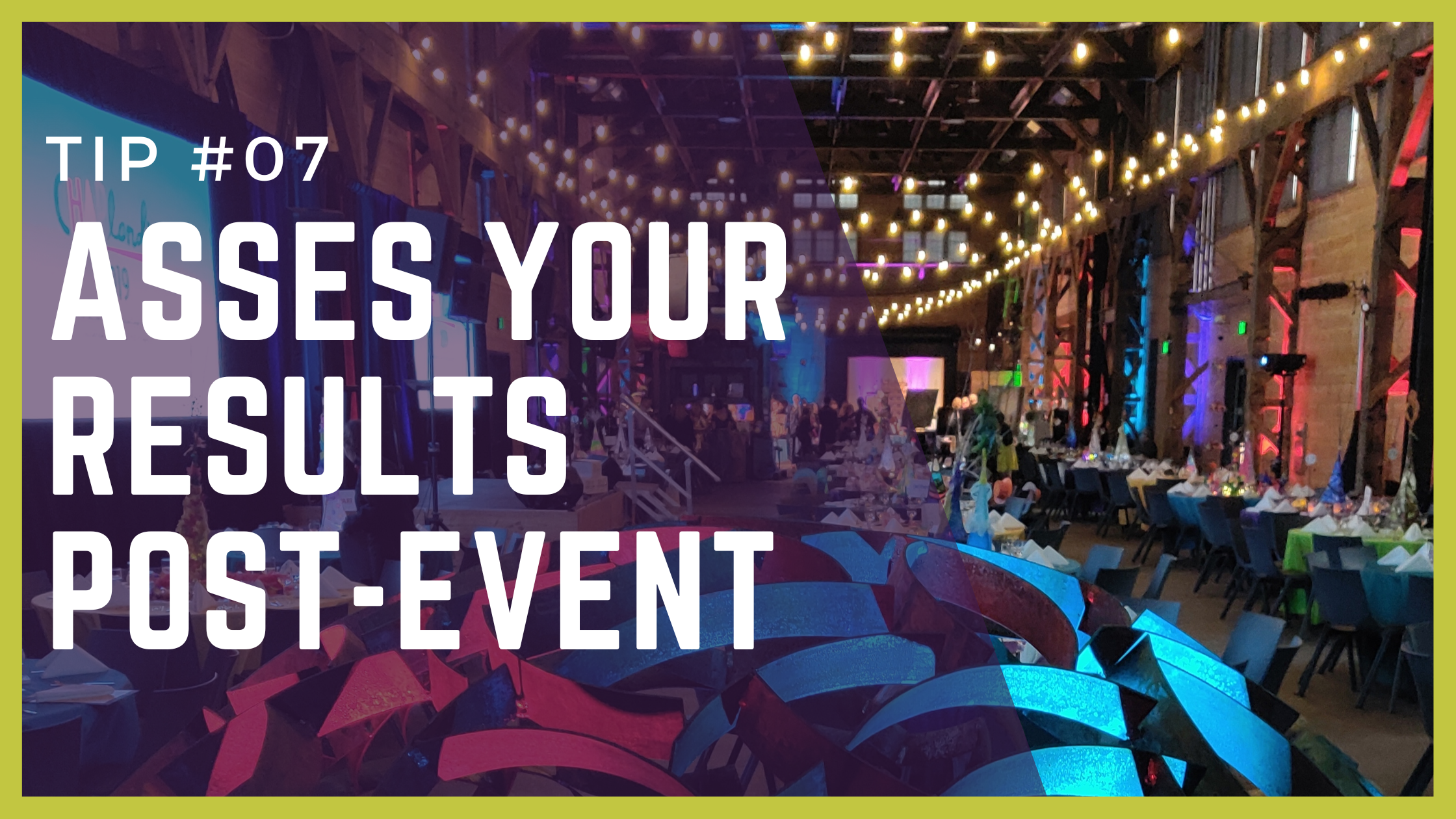 Based on the results, you can then make data-driven decisions to improve your future fundraising events. This can include making changes to the event schedule, optimizing the marketing strategy, or improving the guest experience. Additionally, analyzing the results can help you identify any gaps in your event planning and management skills, and allow you to develop a plan to improve those areas.
Review the results of your fundraising event by start asking some of these questions: 
Did you stay under budget? 

Did your promotions attract attendees? 

Did more people sign up online or offline? 

Did you receive new donors? 

Were your corporate sponsorships successful?
Analyzing the results of the questions above as well as any number of questions related to fundraising event management is essential for continuous improvement and success. It allows you to learn from your successes and failures, and apply those lessons to future events to achieve even better results. Assess what worked and what didn't. Doing so will help you hone your fundraising event management skills and improve your future endeavors.
Food for thought:
When reviewing the results of your past fundraising event, what have been some of the most surprising or shocking discoveries?
Organizing successful nonprofit events requires a combination of strategic planning, creative thinking, and effective execution. Strategic planning helps ensure that your event aligns with your organization's mission and goals and that you have clear objectives and a target audience in mind. Creative thinking allows you to come up with engaging and memorable event themes and activities that resonate with attendees and inspire them to support your cause.
Effective execution and solid AV production management ensure that everything runs smoothly on the day of the event, from logistics to programming, and that your guests have a seamless and enjoyable experience.
By following the tips and strategies outlined in this blog, you can create high-value events that not only raise funds but also engage and inspire your audience. Whether it's creating a compelling event theme, engaging attendees through technology-driven interactive activities,  using AV production tools to enhance your event, or cultivating strong relationships with donors and supporters, there are many ways to make your event a success. And by continuously evaluating your performance and making improvements based on feedback, you can ensure that your future events are even more successful. I hope you found these tips helpful! Best of luck with your future fundraising events.
---
If you're looking to take your fundraising event or gala to the next level, I'm here to help! As a seasoned event production professional, I have the experience and expertise to help you create a high-value event that engages your audience and achieves your fundraising goals.
If you'd like to dive deeper into high-value production strategies for your particular event or fundraising gala, I invite you to schedule a one-on-one conversation with me. During our conversation, we can discuss your event goals, audience, and budget, and identify strategies and tactics that will help you create an unforgettable event experience.
Whether you're looking for guidance on event design and technical production, fundraising strategies, attendee engagement, or marketing strategies, I can provide you with the insights and expertise you need to succeed. Don't settle for an average fundraising event or gala – let's work together to create an exceptional and memorable event that achieves your goals and leaves a lasting impression on your attendees.
Contact me today to schedule a one-on-one conversation and start planning your next-level fundraising event or gala!