After one year of virtual events we've learned that thanks to the digital nature of virtual events the opportunity is huge and the time is NOW to learn how to monetize your virtual sponsorships for your future events, virtual or hybrid. You need to know the best way to provide a truly powerful virtual sponsorship experience, that starts with connecting your sponsors with the right people. Your sponsors will always come to events for one reason: your attendees. This driving reason doesn't change, no matter if the event is live, in-person or hybrid (a mixture of the both worlds).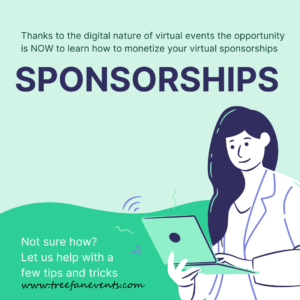 We understand how this also brings the potential of a lot of pressure on you to get it right. Sponsors are an integral part of your event, so it's vital that they generate value from their participation.
And because most times there are no second chances, we want to share with you a few best tips and practices to provide quality event sponsorship proposals, both for virtual events and hybrid.
Read this blog post to give your sponsors the opportunity of a lifetime by connecting your participants together – virtually – in engaging online communities that prove the value of your virtual event to your sponsors.
And if you'd like to learn more about how we can make your virtual or hybrid event a reality, don't hesitate to book a free 20 min discovery call with us now.

So, how do you provide opportunities during your event for your sponsors to help them drive business? Here are a few simple ways:
1. By promoting your sponsors during your virtual event
A virtual or hybrid event is not complete without a great virtual sponsorship package that includes promotional opportunities for your sponsors like for example 30 sec mini-promo commercials, gif ads with CTA (call-to-action), graphic overlays, lower third tickers during sessions and push notifications either via text messages or via your platform of choice.

You can custom-build these packages on a tiered scale and sell these different promotions, or them offer a-la-carte to any sponsor interested and wishing to purchase them. The good news about these type of digital promotions is that they work far better than say, a banner at a venue, because now you have access to all the data and the metrics and you can provide accurate post-event reports to your sponsors on exactly how many attendees saw these promotions and, even better, how many attendees took action because of seeing them.
During our virtual fundraising events we make great use of sponsored swag, the pre-event pre-roll that sponsors get to have a unique visual prime time as the attendees are awaiting for the event to start, as well as during the event itself with sponsored program segments, after-party VIP segments, wine wall sponsored opportunities, during-the-live shout-outs, sponsored content, or through the use of graphics such as: lower screen banners, tickers and overlays, and even 15-30 sec commercials as a transitional point or a short break that the virtual attendees get in between program segments and other content elements.
2. By offering engaging sponsor booths
If your event takes place on a platform of choice like Run The World, or Bevy, or SplashThat, or Brella, or Hopin, or Swapcard, or Whova, or vFairs, or Hubilo, or Sociallive, or PheedLoop, or (name your platform of choice), of all the virtual event sponsorship ideas out there, this one might as well be the best. Instead of offering physical booths like you would at an in-person venue, you have the option now to offer your sponsors virtual booth spaces within a virtual event platform. These virtual spaces so-called "booths" are perfect for promoting your sponsors and helping them drive business, even when your sponsors can't join or participate in person.
By creating these digital spaces with the brand identity of your exhibitors and sponsors that will act like the physical booths your sponsors are used to, your attendees can engage with your sponsors and exhibitors, browse the tiered options and many services your sponsors provides.
Within the structure of these packages, similar to the promotion packages you'd build to sell to your sponsors, your sponsors can provide benefits in tiered packages, like access to live chat, sharable content and more, which will help your sponsors connect with your attendees in meaningful ways.
3. By offering your sponsors the opportunity to sponsor rich content and sessions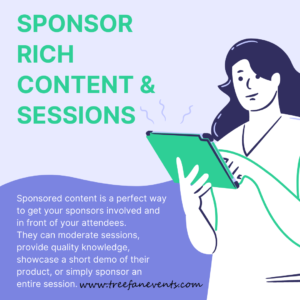 No event is an event without content and informative sessions that attendees walk away with value from. And sponsoring rich content is a fantastic way to get your sponsors involved and in front of your attendees. They can provide quality knowledge, showcase a demo of their product, or simply sponsor a session.
Instead of passively waiting at or by a booths, either in person or online for leads, sponsors can now take the initiative at your event and get in front of their target audience by either sharing their own content at their virtual booth, but also by hosting, moderating or sponsoring a session on a relevant topic that adds value to the attendees. On a virtual event platform you do have the ability to highlight all sponsored sessions in the agenda or schedule, typically through locations or content tags and bringing more visibility to that sponsor, but also track attendance numbers during each one of the live-streamed sessions online. This will help you give accurate reports to your sponsors on impressions and reach.
Another tactic is to offer sponsored breakout rooms or round-table discussions with audience members in a more intimate environment, where they can establish thought leadership with their target market and start the business discussions early.

4. By offering one-on-one (1:1) meetings
Getting content views does not always quantify in leads and business to sponsors, and therefore one way to create yet another opportunity for your sponsors is by offering quality networking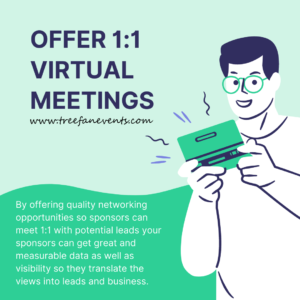 opportunities so sponsors can meet 1:1 with potential leads, which is excellent for translating those views into business for your sponsors because it allows them to strike when the interest is highest and offer the right solutions to the right people. The best way for this to happen efficiently is through the use of AI (artificial intelligence) matchmaking algorithms, as AI algorithms are able to analyze and understand the reason for meeting, continuously learning from those analyses and improving the match quality for each participant.
Event matchmaking platforms typically have participants choose from a detailed list of interests to complete their profile, then the algorithm does the work to sort the attendee list and provide the best matches so you can connect attendees with other attendees and sponsors with attendees on a deeper level by understanding their intents for the event.
The good news is that during a virtual & hybrid event, not only will your sponsors have access to this data and metrics for during the event, but also for post-event which will help you prove ROI to your sponsors. At a live event, a sponsor may have had just a rough estimate of how many meetings they had, if they took time to keep count or if they were diligent to scan the badge of every booth visitor, but with virtual events, you can let them know exactly how many meetings they've had, provide them with a list of leads through traffic to their virtual booth and the segment of your audience that were interested in the sponsor's offerings.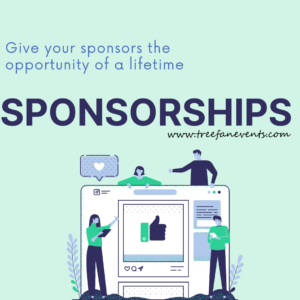 The opportunities for sponsorships for a virtual and hybrid event are much higher than before once you start thinking outside of the box and allowing your mind to break free from the old pattern of thinking of sponsorship in the old days of planning and hosting events. The virtual landscape can offer your sponsors MORE value, a better revenue model, and the potential to grow your long-term sponsorship offerings as well. Plus, proving value to your sponsors is now down to exact data, as opposed to the leaking bucket that in-person events were as far as metrics and reach goes.
Another overlooked consideration is the fact that virtual events can happen in smaller, digestible content events delivered with more frequency over a longer stretch of time. Multiple touch-points provide the opportunity to package groups of virtual events, creating more exposure for sponsors as each event can be individually targeted. Frequency and consistency are key elements to any marketing plan and should resonate with event sponsors.
We're all experiencing an advanced level of virtual event planning for the first time, so lean into it and have fun. Get creative with your sponsors and host a brainstorming session to make them part of the planning and ideation. By giving them some skin in the game, your sponsors will be more likely to commit to the very ideas they've helped craft, and continue to take ownership for future events. Read: repeatable revenue!
Want to learn more about Event Sponsorships, tips and tricks to help you plan and execute better virtual and hybrid events? Listen to this Podcast Episode.